300' / 90 m
Max working height
106' / 32.3 m
Max horizontal outreach
1,168 lbs / 530 kg
Max cage load
1,540 lbs / 700 kg
Max heavy duty cage load
A-300 PLATFORM
Our flagship model for the most extreme projects, the A-300 is the tallest manlift in the world mounted on a conventional chassis. This rare 300-foot tall articulating and telescopic hybrid lift is German-engineered at the highest technological level.
When combined with the operated all-inclusive rentals staffed by the IPAF-certified experienced driver, the A-300 lets you quickly complete the jobs that you didn't think were possible.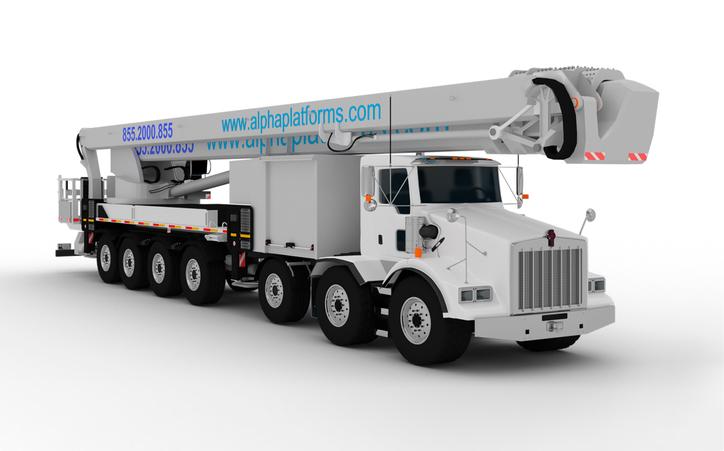 HEIGHT REACH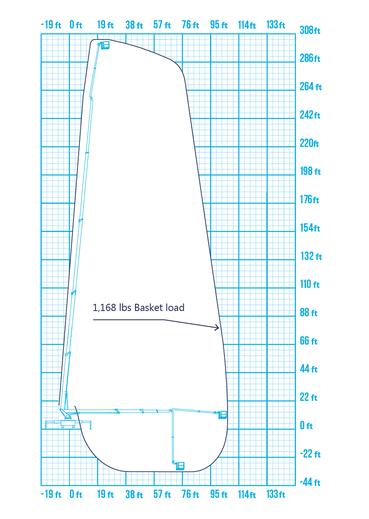 SIDE REACH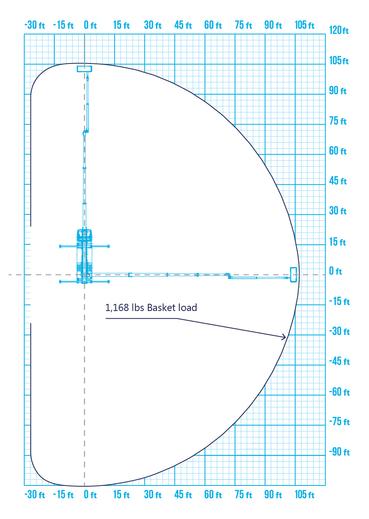 Max. working height
300' / 90 m
Max. cage floor height
289' / 88 m
Max. horizontal outreach
106' / 32.3 m
Max. working range bellow floor level
20' / 6 m
Max length of jib boom
31'6'' / 9.65 m
Turntable rotation
270 degrees
Min. stabilizer spread
8'6" / 2.95 m (within truck width)
Max. stabilizer spread
26' / 8 m
Unit dimensions in transport position
53″ X 8′6″ X 13′4″ / 16.15m X 2.59m X 4.1m
Gross vehicle weight
110,900 lbs
Max. extendable cage load
1.168 lbs / 530 kg
Extendable cage dimensions
12'7" x 3'4" x 3'6" / 3.88 m x 1.05 m x 1.1 m
Max. heavy duty cage load
1,540 lbs / 700 kg
Heavy duty cage dimensions
8'1" x 3'4" x 3'6" / 2.47 m x 1.05 m x 1.1 m
Cage rotation
2 X 84 degrees
Socket in the basket
230V / 110V / 24V DC
Hydraulic power outlet
200 bar (2,900 PSI), 10 l/min (2.6 GPM)
High pressure air line / heater / A/C / halogen lights inside the cage
Movable cage controls panel with graphic display
Secondary controls station at a turntable
Rain cover, sunshade, hoist, winch
See Other Boom Lift Heights
Extreme Boom Reach
Hard-to-believe capabilities of height reach (up to 300 feet), side reach (up to 135 feet), up and over reach (up to 100 feet), and any hard-to-reach places.
Crew Safety and Accident Prevention
With three built-in overload and reach control systems, our lifts minimize the impact of human error.
Large Heavy-Duty Basket
Our 12-foot basket accommodates up to 6 people. It lifts up to 1,322 lbs, lifting most of the equipment or parts you will need with you, saving on a crane.
Cage Outlets and Attachments
We provide all necessary utility outlets and cage attachments for every job at heights.
Quick Lift Setup
Your boom lift truck will be ready in 10-15 minutes for you and your crew to be lifted. It takes up to 5 minutes to reach 300 feet.
Workers' Comfort and Productivity
What other manlift includes a chair, a sunshade, a heater, heated non-slip floors, or an air conditioner?
A-300 CASE STUDY
Climbing Fragile Church Spire for Restoration
How to Install Netting
on a 215-Foot Historical Church Spire
There was only one height access method to protect this historical church.
Contactless height access saved tens of thousands of dollars.
Alpha Platforms was engaged by industrial climbers to help set the netting over the spire on the 1870 Arch Street United Methodist Church in downtown Philadelphia.
There were no suitable and affordable options for getting onto the 215-ft steeple. The team evaluated hiring a crane with a hanging basket, roof hatch access, and scaffolding: they were all too expensive, risky, and would further damage the fragile structure.
Alpha Platforms dispatched its A-300, a 300-ft high access boom lift to hang a net without making contact with the building. Our all-inclusive service provided a full-time IPAF-certified lift operator, a road closure permit, and traffic management for the duration of the project.
The project was scheduled during a major snowstorm and the client hesitated due to the bad weather.
Find out how long it took and whether snow, wind, and sleet affected net installation.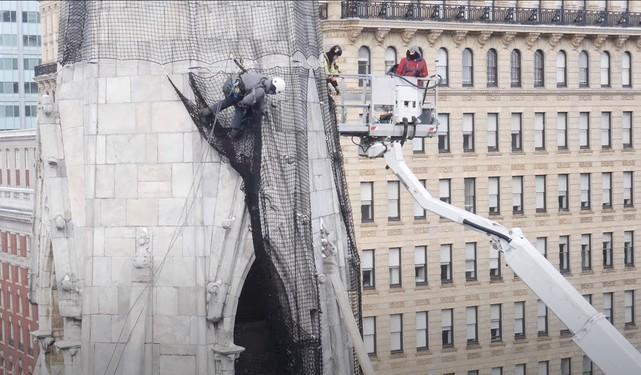 MORE A-300 Case Studies
How a construction crew saved time and money by installing a 260-ft smokestack without a crane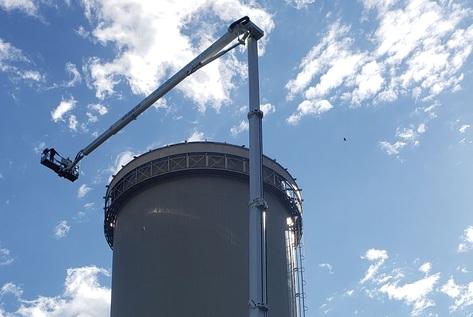 How Alpha Platforms squeezed its 300-ft boom lift through a narrow mountain road to inspect a 200-ft water tower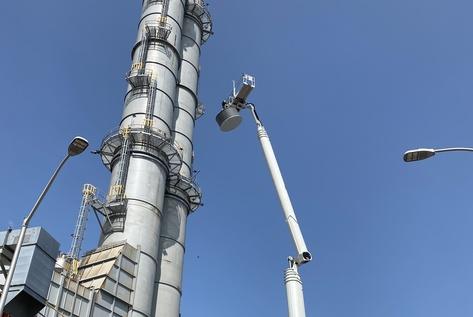 How do you bolt a 6-ft antenna to a 258-ft-high smokestack catwalk in windy conditions with a crew of two?
Is 300' boom lift the height you need for your projects?
Sometimes, a smaller lift is enough.
Ask now and save
Thank you!
We received
your request
Our Team will be in touch
as soon as possible