Let us now tell you about the reliable solution for your business – rental of an aerial platform in Baltimore, MD.
In every place where you need to deal with operations at height, you can rely on our truck mounted boom lifts and professional operators to ensure smooth and efficient accomplishment of your tasks. It's absolutely reasonable to rent AWP when you don't need these machines on a daily basis. In Baltimore, Maryland, it's Alpha Platforms company that will provide you with the best boom lifts and the most attractive terms of cooperation.
One machine for lots of purposes
Do you need an aerial work platform to meet the deadline of a construction project in Baltimore? To do some industrial warehousing? To paint a water tower? To pick some orders? To wash windows maybe? Alpha Platform is happy to help you out! Here, in Baltimore, MD, we have a great fleet of high-quality truck-mounted boom lifts for a wide range of jobs in this city. Contracting with our company, you ensure safe, efficient, cost-effective and reliable work even amidst extreme conditions and strict deadlines.
Nowadays it is hard to imagine any better equipment for solving these tasks. The majority of construction projects involve aerial work platforms which are not always owned by construction companies. Choosing rental above purchasing, such companies avoid huge investments, regular repair and maintenance costs, the problem of storage and outdating of expensive machines. At the same time, Alpha Platforms has been successfully solving these tasks for many years to provide you with a ready convenient solution and help your business prosper.
Truck-mounted boom lifts are used by many businesses. Our clients include maintenance and construction companies, general contractors, ambitious city developers, airline organizations, dock companies, warehouse owners and others. If you need our equipment to move beyond Baltimore, it's also possible and negotiable. Give us a call, and we'll find the best solution for you.
Easier and faster than you thought
If you thought that it is difficult and time-consuming to deliver and set up heavy aerial boom lifts on site, you were wrong. Even the largest boom lifts of Alpha Platforms take only ten minutes to set up and quickly extend to tremendous 230 ft! They outperform other types of equipment in lifting capacity, safety and maneuverability, and bring the industrial part of your business to another level of success.
You may even further improve the qualities of our high-quality boom lifts by using various attachments. Discuss this opportunity with our specialists to choose the optimal solution for your project.
Work safely and comfortably
At height you can work with the same level of safety and convenience as if on the ground. You can approach all areas from different angles even being high up in the air. These boom lifts are designed to let you solve the most challenging tasks at height by accessing hard-to-reach spots and surfaces, lifting people, tools and materials with almost zero risk.
We recommend our aerial boom lifts for such industries as:
Construction: you can work even on rough terrain, to tackle ambitious tasks with confidence and ease.
Landscaping: our equipment is perfect for urban beautification including manipulations with trees.
Agriculture: boom lifts from Alpha Platforms are always ready to help farmers who often need to repair tall machinery or do other manipulations at height.
Repair of electrical lines: we will make your risky work substantially less risky by lifting you up to the required height for repair manipulations.

Planning of sports and cultural events: we often help to arrange large mass events in Baltimore by helping to fix cameras, decorations, lights, screens and more.

Do not hesitate to ask questions and discuss the terms that will be absolutely fine with you. Alpha Platforms is flexible and friendly!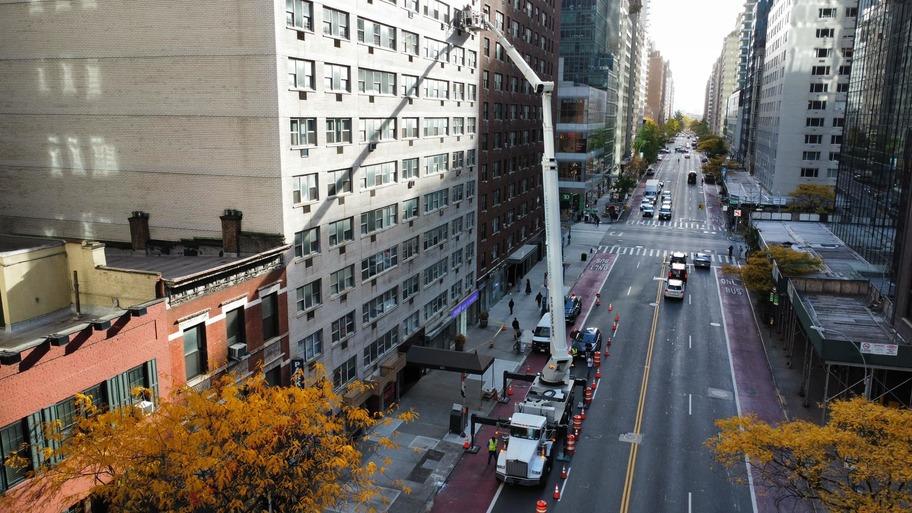 Moving forward and up to the stars!
We are happy to share amazing news with our clients! Alpha Platforms entered the SpaceX's Starship project to help the most powerful launch vehicle ever designed by people to reach Earth orbit, Mars and even more remote planets of our planetary system! The Starship is a 100% reusable transportation system that will carry crew members and necessary loads away from the Earth and far into space. It will have the amazing ability to carry 100 metric tonnes to Earth orbit.
Do you want to find yourself in the same boat? Join our company in the most ambitious plans and achievements!