Bucket trucks are very helpful for tree trimming, being widely used in any big city and beyond. Not only they help to make parks, gardens and recreation zones look beautiful again, but also allow to prevent emergency situations where trees have been broken or deteriorate due to disease or age.
It's impossible to solve all these problems with ladders, of course. Every day people enjoy nice green landscapes without thinking what it costs to maintain health and shape of all those trees.
Bucket trucks help to remove broken branches, to prune and to trim urban trees, to eliminate the risks hanging over people's heads.
Why are bucket trucks preferred to all other options for tree pruning? This kind of equipment helps to perform operations in the areas full of obstacles – any structures, poles or power lines, for example. Bucket trucks from Alpha Platforms will help you to meet safety rules and assure minimal disturbance of the garden and its landscaping.
If you have a municipal or commercial building surrounded by trees, you need to take care of its beauty and hire reliable aerial work platforms for thinning, pruning and trimming those trees. We'll perfectly take care of the exterior of your building. You may also use the services of our professional operator who will take the maximum of all the benefits of the provided bucket truck.
Bucket trucks targeted for tree services
It's not difficult to imagine how many efforts and how much time it takes to provide good care to trees. This job also requires specific knowledge – both of nature and safety regulations. Alpha Platforms normally recommends 150 to 230" boom lift trucks for tree operations, as those equipped with long arms that carry platforms or buckets where a worker may stand. There is no safer way to reach the top of a tree. Our operators can extend buckets up to 300 ft and let you get rid of the necessity to climb high trees and thereby putting your health and life to risk. Avoid emergency situations and possible issues by hiring professional equipment and personnel for tree operations on residential or commercial areas.
Why bucket truck when trimming or pruning a tree?
There are some obvious reasons to choose the option of a bucket truck for tree operations to other kinds of equipment and methods.
First of all, it is cost-effective: you definitely save money when you use a bucket tree instead of ladders and labor force. It takes a lot of time to carry and reposition ladders and tools, and you can do the job within hours instead of days. Besides, less people – less risk.
You considerably minimize possible damages to your gardens or yards. In order to get an access to trees, those who trim trees have to pull up straightly into the garden. Nobody wants heavy machines to destroy flowers and plants and affecting the lawn. Bucket trucks have the great advantage to avoid obstacles and protect the beauty of a yard.
Dealing with truly tall trees, you can elevate really high only with help of a bucket truck. It's minimum of risk compared to ladders and the most efficient solution to the problem of reaching tree tops.
Here, at Alpha Platforms you may find machines specially intended for tree and vegetation care services with observance of safety regulations. We maintain our fleet in a good working condition, adding innovations and improving skills of our operators.
Best solution for tight budget
It's not a secret that municipal parks just like most of recreation places of the country cannot afford expensive tree services, being tight on their budgets. This is why they look for professional equipment that could be highly flexible and versatile in solving many problems and taking many responsibilities. Our bucket trucks become the best solution for these purposes. Reaching the widest range of heights, easily maneuvering between obstacles, elevating staff to desired heights, they truly save many industries.
Alpha Platforms happily provides services to utility organizations and telecommunication companies, to owners of commercial buildings and residential houses who wish to live and work in a comfortable and beautiful place and enjoy nice landscaping. Vegetation care is not so costly to tolerate dull parks or broken hazardous trees – these services are nowadays affordable for everyone.
We will be happy to make your life more beautiful and less dangerous through tree trimming services with help of innovative and reliable bucket trucks in New York. Give us a call to find out how flexible we can be for our clients – from big to small!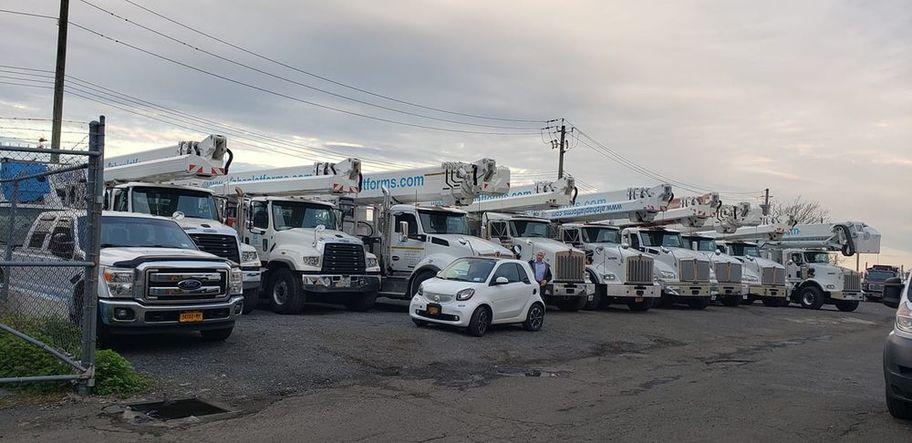 Alpha Platforms is the pioneer in operated
boom lift
rentals and height access service in the 150-300-ft range. Our precise German-made lifts have become the favorite height access method for those who try them once, as they combine unmatched productivity,
safety
, and reach.
Take a dive how boom lift rental with operator provides clients a safe and efficient way to complete work at heights
See the full lineup of our boom lifts
Check out why Alpha Platforms boom lift rental is your best choice for height access solutions