187' / 57 m
Max working height
135' / 41 m
Max horizontal outreach
1,322 lbs / 600 kg
Max cage load
1,540 lbs / 700 kg
Max heavy duty cage load
A-190 PLATFORM
The A-190 model is 175 feet on steroids. It's a modernized 175-foot model where the upper boom increased from 30 to an enormous 60 feet (!), providing unmatched up-and-over reach at heights up to 187 feet with a huge 135-foot maximum side outreach.
An additional 5-foot X-jib and a basket rotation of 400 degrees provide unique mobility, taking flexibility to even loftier heights.
This boom lift is an excellent choice to access tough-to-reach areas that require skillful maneuvering. The turning cage with a 1,322-lb load is perfect for swiveling a big work crew with all tools and materials around any object like a pole, steeple, or tower.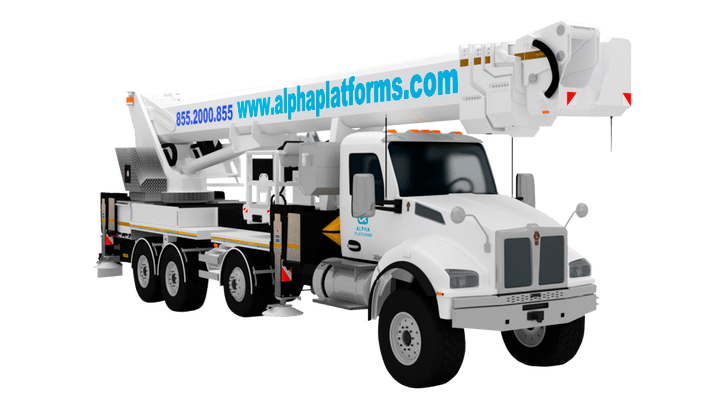 HEIGHT REACH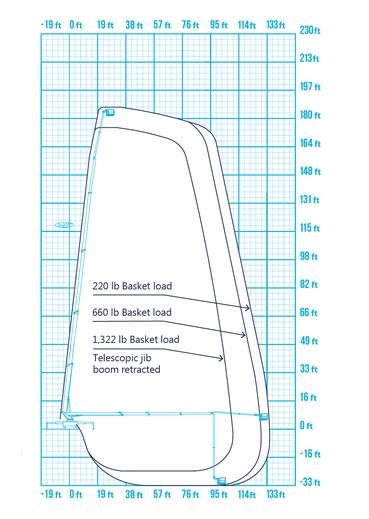 SIDE REACH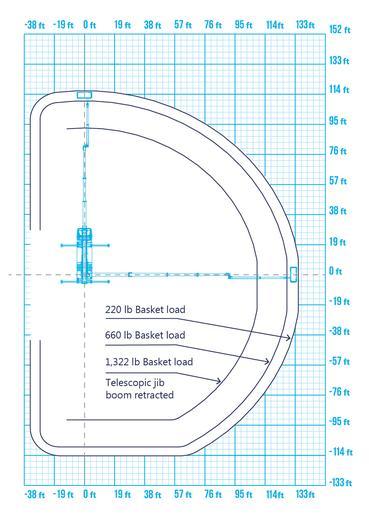 Max. working height
187' / 57 m
Max. cage floor height
180'5" / 55 m
Max. horizontal outreach
135' / 41 m
Max. working range bellow floor level
33' / 10 m
Max length of jib boom
49'2'' / 15 m
Turntable rotation
540 degrees
Min. stabilizer spread
8'2" / 2.51 m (within truck width)
Max. stabilizer spread
29'2" / 8.89 m
Unit dimensions in transport position
39'2" x 8'3" x 12'8" / 11.93 m x 2.51 m x 3.9 m
Gross vehicle weight
57,320 lbs
Max. extendable cage load
1,322 lbs / 600 kg
Extendable cage dimensions
12'5" x 3'4" x 3'6" / 3.81 m x 1.04 m x 1.1 m
Max. heavy duty cage load
1,540 lbs / 700 kg
Heavy duty cage dimensions
8'1" x 3'4" x 3'6" / 2.47 m x 1.05 m x 1.1 m
Cage rotation
2 x 200 degrees
Socket in the basket
230V / 110V / 24V DC
Hydraulic power outlet
200 bar (2,900 PSI), 10 l/min (2.6 GPM)
High pressure air line / heater / A/C / halogen lights inside the cage
Movable cage controls panel with graphic display
Secondary controls station at a turntable
Rain cover, sunshade, hoist, winch
See Other Boom Lift Heights
Extreme Boom Reach
Hard-to-believe capabilities of height reach (up to 300 feet), side reach (up to 135 feet), up and over reach (up to 100 feet), and any hard-to-reach places.
Crew Safety and Accident Prevention
With three built-in overload and reach control systems, our lifts minimize the impact of human error.
Large Heavy-Duty Basket
Our 12-foot basket accommodates up to 6 people. It lifts up to 1,322 lbs, lifting most of the equipment or parts you will need with you, saving on a crane.
Cage Outlets and Attachments
We provide all necessary utility outlets and cage attachments for every job at heights.
Quick Lift Setup
Your boom lift truck will be ready in 10-15 minutes for you and your crew to be lifted. It takes up to 5 minutes to reach 300 feet.
Workers' Comfort and Productivity
What other manlift includes a chair, a sunshade, a heater, heated non-slip floors, or an air conditioner?
A-190 CASE STUDY
Highway Bridge Inspection and Repairs
How to Shrink Inspection Time of a Three-Mile Bustling
New York Highway Bridge from 2 Months to 3 Days
The Governor Mario M. Cuomo Bridge is a spectacular 3.1-mile, cable-stayed, twin-span bridge built in 2017 and opened to traffic in 2018. Its angled towers soar to about 280 feet and support 192 stay cables made of more than 4,900 miles of steel strands.
The challenge was that the daily commuter traffic hovered around 150,000 with peaks of 170,000 vehicles per day. One of four critical commuter bridges crossing the Connecticut river, this bridge supports the New York Thruway, a critical artery around New York City.
In compliance with Federal Highway Administration regulations, this bridge must be inspected once every two years for cable and fixture integrity and painting maintenance.
Instead of a typical scaffolding basket hanging on stay cables that cannot operate on windy days, Alpha Platforms dispatched its A-230, a 230' telescopic boom lift. The lift operator easily maneuvered the cage between and around the cables–even with 36-50 mph gusts.
Our boom truck blocked just two lanes for 6 hours per day, avoiding rush hour, for three days. Inspectors discovered a broken cable sleeve and requested the A-230 for one more day to fix it.
Because of our unique height access solution, we saved the client over $200,000 just on bridge inspection.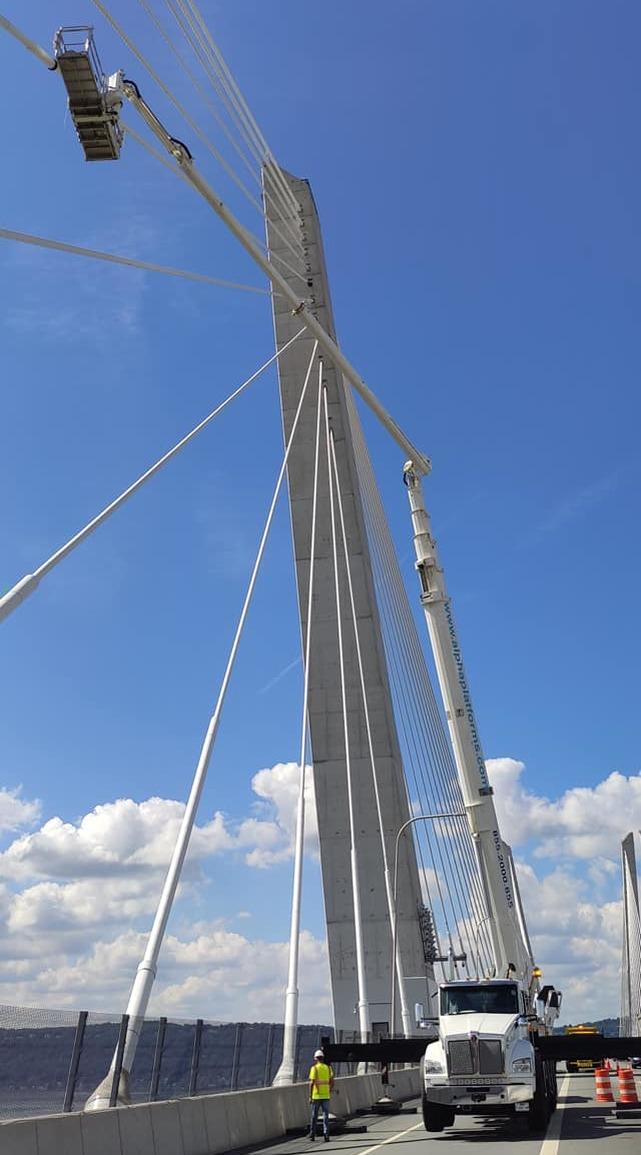 Is 190' boom lift the height you need for your projects?
Sometimes, a smaller lift is enough.
Ask now and save
Thank you!
We received
your request
Our Team will be in touch
as soon as possible