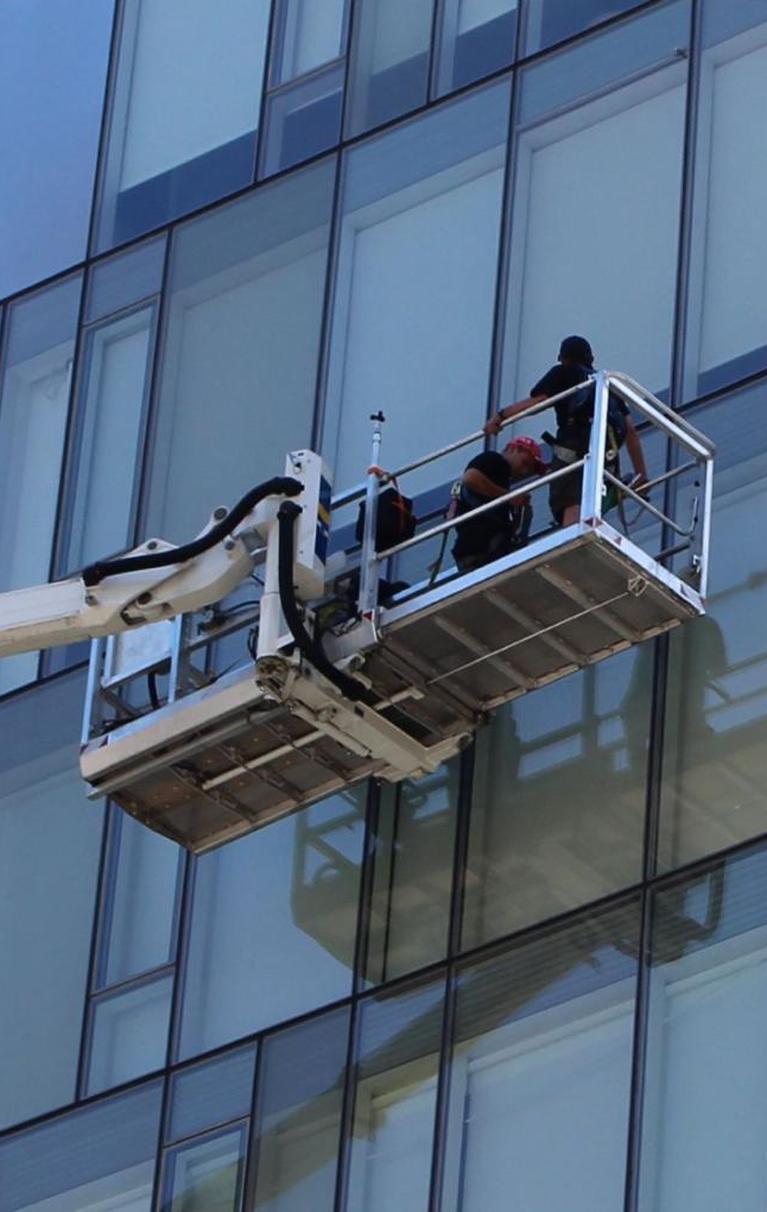 Our Man Baskets
Thank you!
We received
your request
Our Team will be in touch
as soon as possible
Man Basket
Capabilities
Our hydraulically expandable man baskets (boom cages) provide the unique feeling of a true workplace in the sky. They help our clients achieve productivity and comfort comparable to working on the ground while working at heights.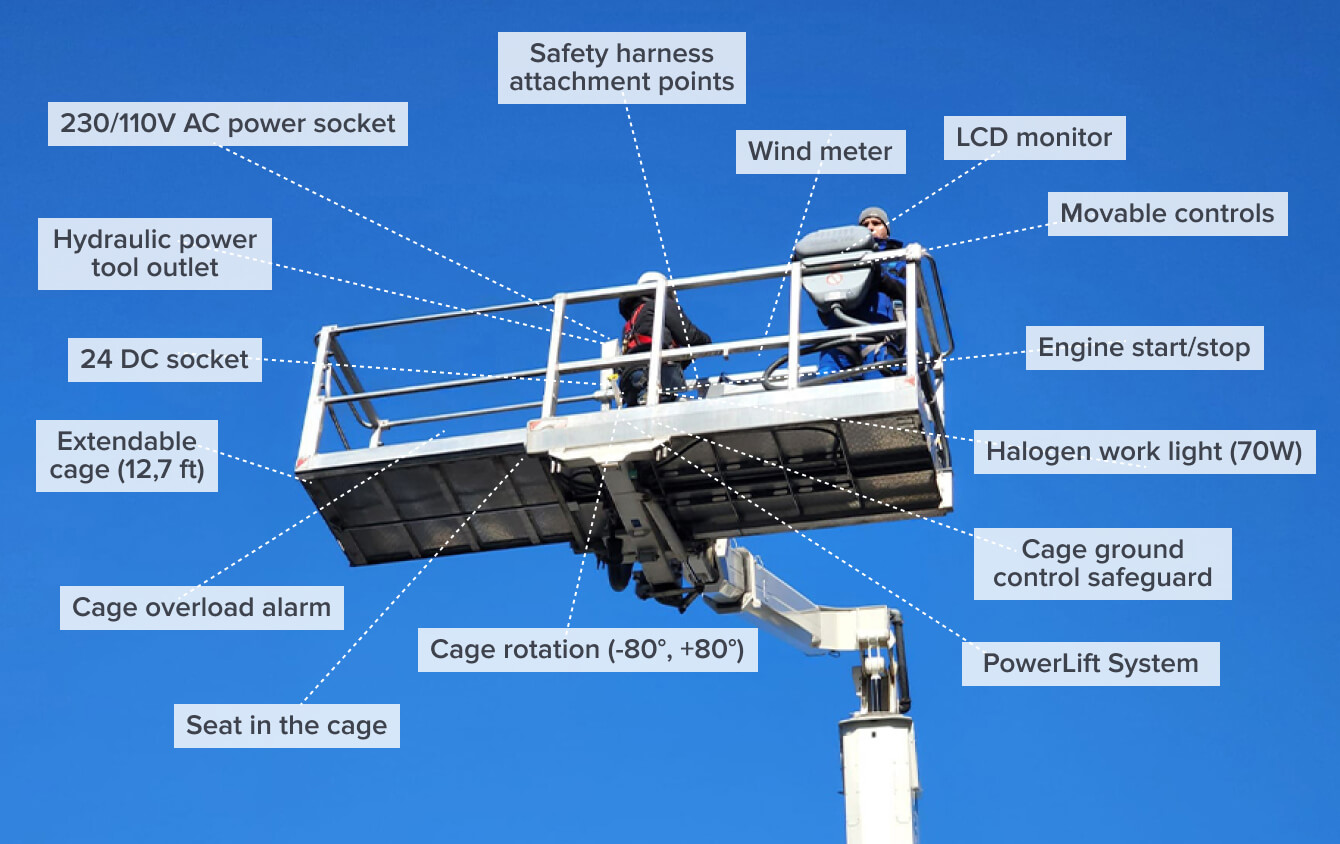 Extreme Payload for
People and Equipment
Our standard cage hydraulically expands to 12 feet and has a 1,322-lb capacity. It can lift up to 5-6 people and provides a comfortable, safe, and stable work environment for 3-4 technicians with equipment at any height up to 300 feet. Alpha's optional heavy-duty basket has 1,540-lb capacity and measures 8'1'' x 3'4'' x 3'6''.
Reach and Maneuverability
Alpha Platforms specializes in providing
professional height access
services, bringing the world's most technologically-advanced, precise, and steady aerial work platforms to the North American market.
Height access up to 300 feet
Cage rotation with automatic centering (80+80 degrees)
Our A-250 achieves 400 degrees of rotation
"Up and over" access: 200 feet up and 100 feet over
Boom extension side reach up to 135 feet
Fly jibs of 30, 60, and even 100 feet
Unique "under and up" or "up and over and back" access
"Reach "up and around" and "up and behind the corner"
Vertical parallel drive of the cage
No swaying of the cage
Safety of Man Basket
Our aerial platforms and truck-mounted booms are outfitted with
top-safety features
to preserve worker and pedestrian well-being and protect against accidental property damage.
Smooth controlled motions to move close to and around glass and fragile structures
Load-dependent built-in cage boom extension limits
Redundant real-time, computer-limited extension and load limits
Emergency lowering of the cage to the ground
Load moment limiter
Cage overload alarm
Built-in wind meter
Six (6) anchor points for safety harnesses
Secondary controls at the turntable
Emergency controls on the ground level
Cage ground contact safeguard
Illumination of all controls
Grounding equipment
Debris-catching safety net
Comfort and
Convenience
Scorching heat and numbing cold and other discomforts don't have to be "just part of the job." Enjoy the "Rolls-Royce" of height access conveniently outfitted for extreme weather conditions:
Halogen work light 70W
connected to truck battery
Movable control panel
positioned out of your way
Foldable attached seat for resting
Foldable attached tray for laptop
Heater lamps and heated floors
Cooling fans and A/C units
Sunshade and rain shade
Experience a Man Basket


Like no Other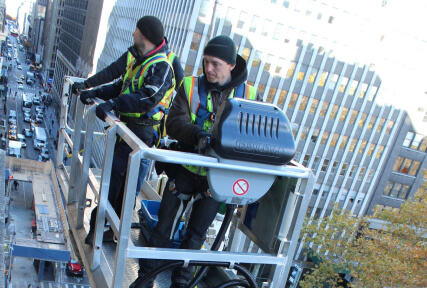 Instantly connect your equipment to increase your productivity at heights
230/110V AC power line
230/110V socket
24V DC vehicle-powered socket
200 bar (2,900 psi) hydraulic power outlet
10 liters/min (2.6 GPM) high-pressure air/waterline
4.1kVA, 100V 60 Hz hydraulic generator
Swivel cable loops for TV cable or similar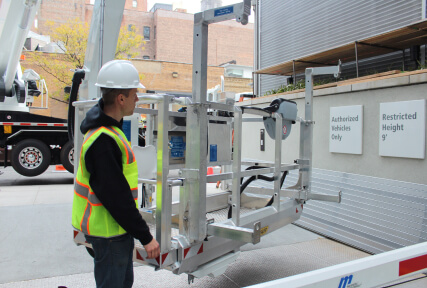 Aid in lifting small equipment, materials, and parts up to 560 lbs. without hiring a crane
PowerLift system with hoists and load brackets
Cage winch
Camera mounts
Other custom-designed attachments for a variety of jobs
Monitor current height, side reach levels, and remaining movement options
Real-time control panel with a graphic LED display
"Home function" - automated return to transport position
Remote diagnostic system with data acquisition and GPS
Chose the Man Basket

that Fits Your Project Needs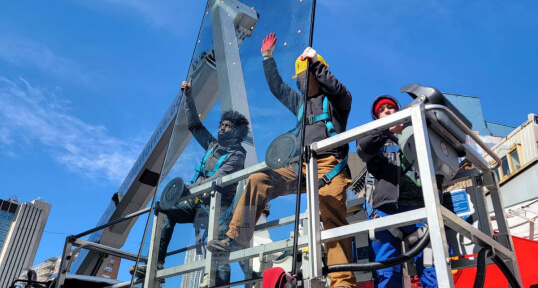 Our standard cage extends from 8 to 12 feet and features 1,322-lb of capacity. It can lift up to 5-6 people and provide a comfortable, safe, and stable work environment for 3-4 technicians with equipment and materials.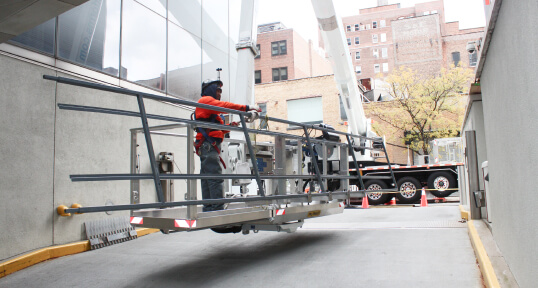 All A-line equipment can be supplied with a heavy-duty cage (HDC). The HDC is 8-feet wide and has a capacity of 1,540 lb. It is not extendable but has all the other features of a standard expandable cage: 24V DC, 220V AC, 110V adapter, hydraulic tools outlet, air/water line, seat, and Power Lift System.
Reviews of Our Man Baskets
See what our customers say about us
Want to See How Our Clients


Use Various Man Baskets?
Thank you!
We received
your request
Our Team will be in touch
as soon as possible