175' / 53 m
Max working height
130' / 39.5 m
Max horizontal outreach
1,322 lbs / 600 kg
Max cage load
1,540 lbs / 700 kg
Max heavy duty cage load
A-175 PLATFORM
The A-175 lift's specialty is its enormous side outreach at a working height of up to 175 feet (53 m). An all-wheel drive, extra-heavy duty chassis, light boom structure, 30-foot upper boom, and a basket rotation of 2 x 200 degrees allow a record 130-foot (40-m) side reach and provide exceptional mobility, taking flexibility and up-and-over reach to the next level.
The overside 12-foot wide workman basket featuring 1,322 lbs (600 kg) of load capacity maximizes worksite flexibility and efficiency.
These characteristics give the A-175 a unique side reach advantage over even the tallest JLG and Genie lifts' modest capabilities.
HEIGHT REACH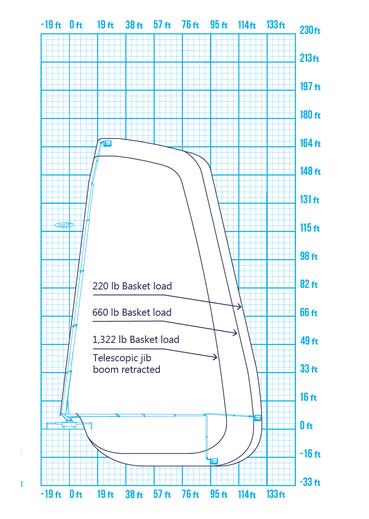 SIDE REACH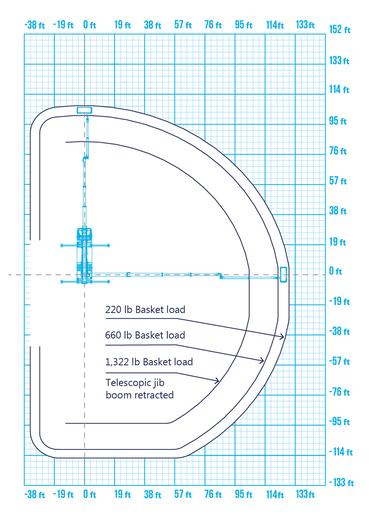 Max. working height
175' / 53 m
Max. cage floor height
167' / 51 m
Max. horizontal outreach
130' / 39.5 m
Max. working range bellow floor level
20' / 6 m
Max length of jib boom
31'6'' / 9.65 m
Turntable rotation
continuous
Min. stabilizer spread
8'6" / 2.95 m (within truck width)
Max. stabilizer spread
28'4" / 8.67 m
Unit dimensions in transport position
40" x 8'6" x 13'1" / 12.2 m x 2.59 m x 4 m
Gross vehicle weight
58,900 lbs
Max. extendable cage load
1,322 lbs / 600 kg
Extendable cage dimensions
12'7" x 3'4" x 3'6" / 3.88 m x 1.05 m x 1.1 m
Max. heavy duty cage load
1,540 lbs / 700 kg
Heavy duty cage dimensions
8'1" x 3'4" x 3'6" / 2.47 m x 1.05 m x 1.1 m
Cage rotation
2 X 80 degrees
Socket in the basket
230V / 110V / 24V DC
Hydraulic power outlet
200 bar (2,900 PSI), 10 l/min (2.6 GPM
High pressure air line / heater / A/C / halogen lights inside the cage
Movable cage controls panel with graphic display
Secondary controls station at a turntable
Rain cover, sunshade, hoist, winch
See Other Boom Lift Heights
Extreme Boom Reach
Hard-to-believe capabilities of height reach (up to 300 feet), side reach (up to 135 feet), up and over reach (up to 100 feet), and any hard-to-reach places.
Crew Safety and Accident Prevention
With three built-in overload and reach control systems, our lifts minimize the impact of human error.
Large Heavy-Duty Basket
Our 12-foot basket accommodates up to 6 people. It lifts up to 1,322 lbs, lifting most of the equipment or parts you will need with you, saving on a crane.
Cage Outlets and Attachments
We provide all necessary utility outlets and cage attachments for every job at heights.
Quick Lift Setup
Your boom lift truck will be ready in 10-15 minutes for you and your crew to be lifted. It takes up to 5 minutes to reach 300 feet.
Workers' Comfort and Productivity
What other manlift includes a chair, a sunshade, a heater, heated non-slip floors, or an air conditioner?
A-175 CASE STUDY
Water Park Construction
How to Accelerate the Most Expensive
Mall Construction Project and Reduce Overall Cost
American Dream Meadowlands is the US's second-largest entertainment and commercial center, taking a whopping 13 years and $6 billion to build. It is home to DreamWorks Water Park, the largest indoor water park in the United States. Inside the water park, the largest covered indoor wave pool with artificial waves lapping over 1.5 acres was under construction.
The general contractor needed to attach pool area decorations, lighting, and paint under the 140' roof.
The construction was behind schedule and severely over budget, facing a fast-approaching start date for pool excavation with millions of dollars at stake. The JLG and Genie lifts could not reach the necessary heights and fit in tight spots.
The client engaged Alpha Platforms with its A-175, a 175' telescopic boom lift with a side reach of 120'. Its 31' maneuverable jib boom swiveled the generous 12' basket to easily access all high and tight spots.
Alpha staffed two shifts of operators to work for one week, ensuring uninterrupted work in 117-degree heat, saving the client $500,000-$600,000 on scaffolding alone.
Find out why Alpha Platforms was the only solution suitable to slash project delays and expenses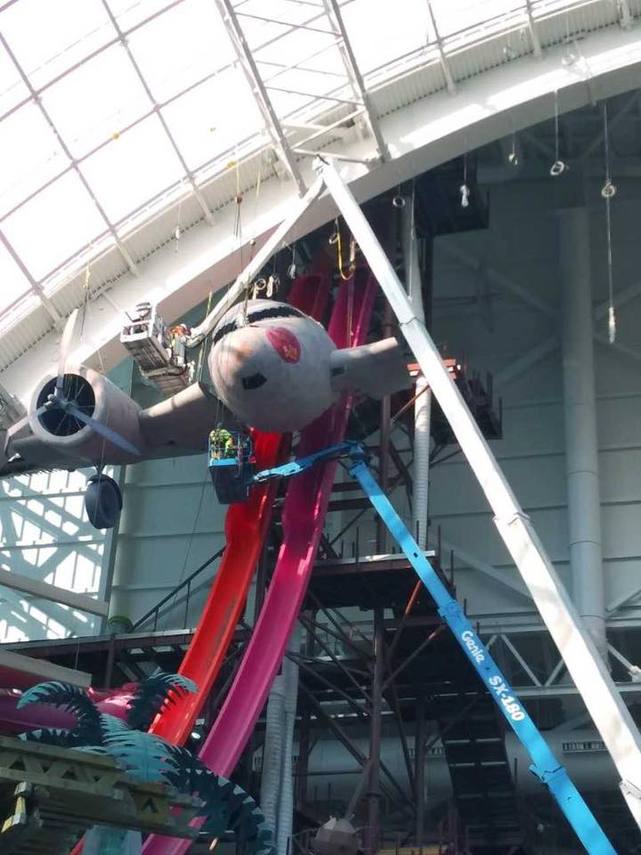 MORE A-175 Case Studies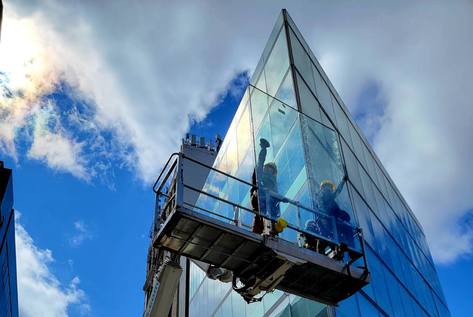 Large Glass Installation on a Busy Street: Disaster Prevented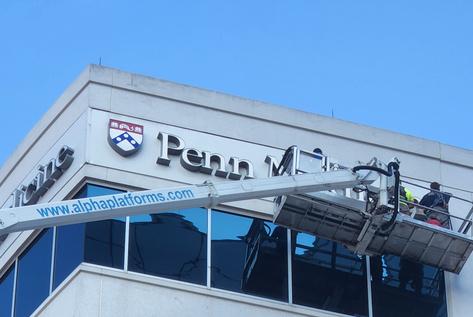 How to Fix Signage on Both Sides of a 100-Foot-Tall Building from a Single Setup Point in Six Hours
How to Accelerate the Most Expensive Mall Construction Project and Reduce Overall Cost
Is 175' boom lift the height you need for your projects?
Sometimes, a smaller lift is enough.
Ask now and save
Thank you!
We received
your request
Our Team will be in touch
as soon as possible