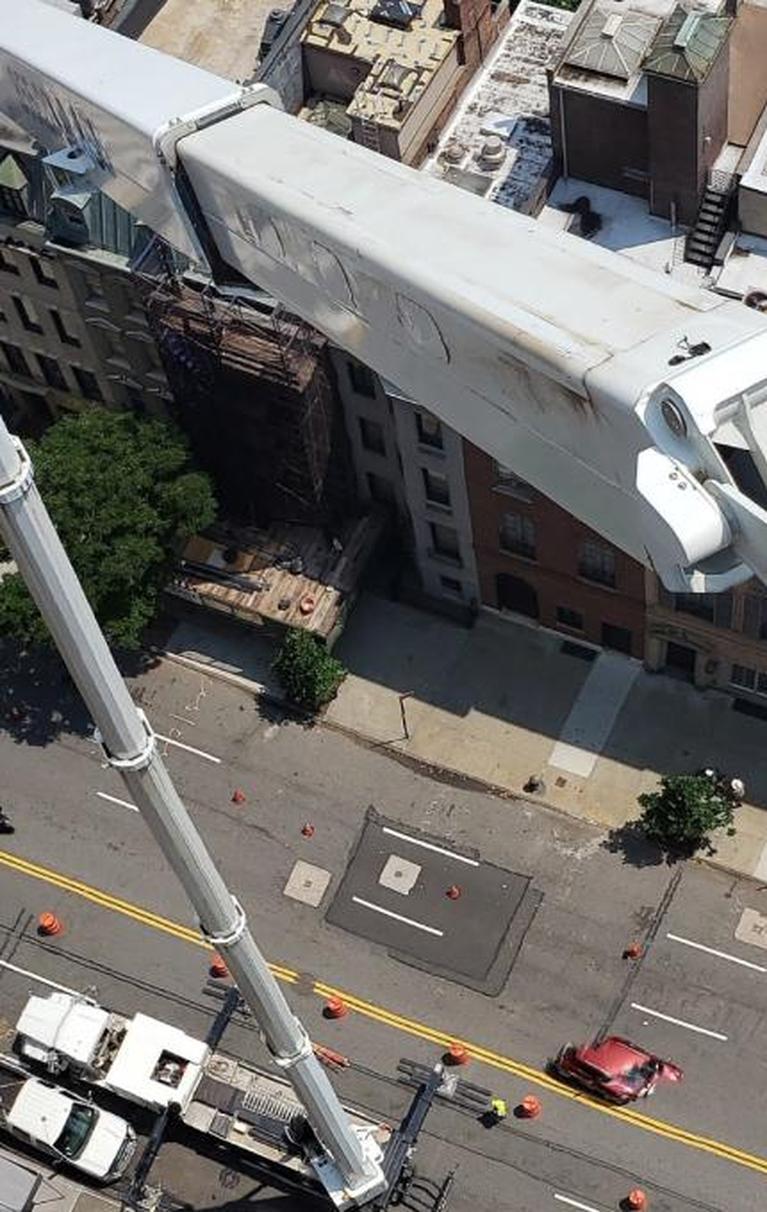 A boom lift is a sophisticated machine enabling professionals to effortlessly reach and work at heights. Also known as an aerial work platform, bucket truck, elevating work platform, mobile elevating work platform, aerial lift, the boom lift is replacing traditional height access methods like climbing, scaffolding, or rope-based access.
It is a safer, quicker, cheaper, and more efficient option.
Alpha Platforms rents out extreme-height boom lifts up to 300 feet and free man basket attachments perfect for projects requiring height and side reach.
Example of a 150-foot boom lift: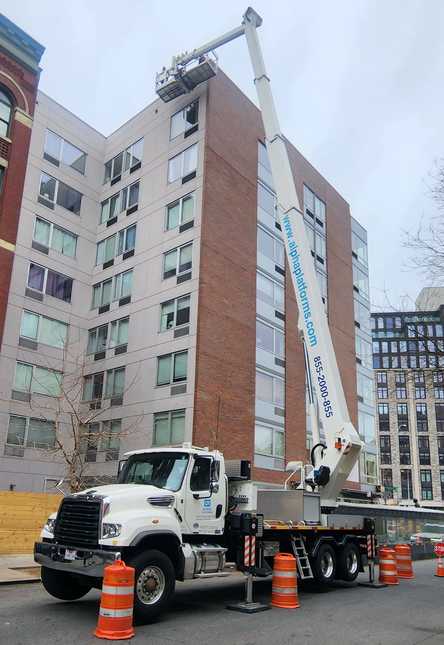 What is an articulating boom lift?
An articulating boom lift is a type of boom lift featuring multiple pivot points on the boom sections. It allows users to extend their horizontal and vertical reach because of its joints and knuckles. With boom lifts, users have up-and-over access, as well as extreme length (up to 300') and side reach (up to 130').
We developed all-inclusive, no-hassle height access solutions and revolutionized how work at heights is done in different industries.
What is a boom lift used for?
Operators use boom lifts for better horizontal and vertical access to conduct operations such as:
construction projects
building maintenance and repairs
window cleaning, glazing, caulking
façade ordinance inspections
roofing, gutters, construction at heights
mining and resource explorations
telecom tower installation and maintenance
water tower maintenance
wind turbine maintenance
bridges and highways maintenance
church steeples protection and repairs
industrial sites and towers, stadiums, arenas, concert halls, billboards, and more.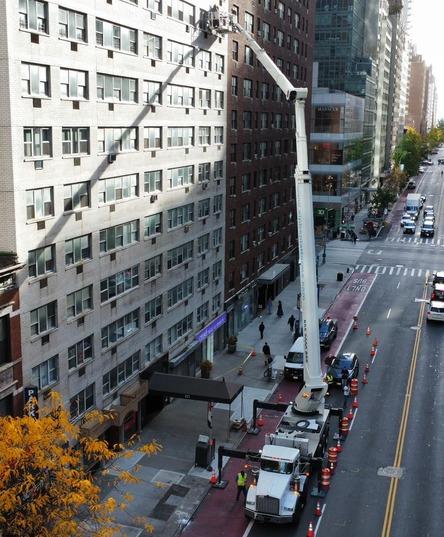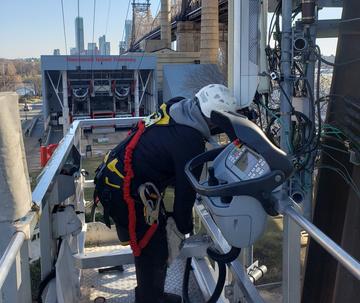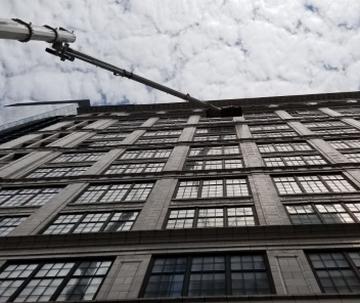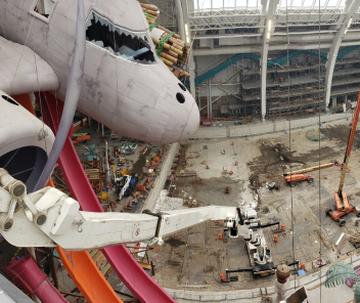 How high do aerial lifts go?
The majority of aerial lifts can extend the platform to the height between 20 and 60 feet off the ground and most of them have very limited side reach.
However, Alpha Platforms extreme lifts can reach from 150 to 300 feet. Our side reach extends to 135 feet.
Before choosing the lift based on its extension distance, it's important to consider the project requirements. For example, for indoor projects, you rarely need a lift that extends over 40 feet.
Meanwhile, height-access projects, such as window cleaning or façade repair, often require lifts that can reach beyond 200 feet.
Where should the tip or platform of the aerial device be placed when rescuing victims from a window?
The platform of the boom lift should be positioned as close as possible to the window during a rescue mission. The tip should not surpass the window level.
With a maximum cage floor height of 289' and maximum horizontal outreach of 106', the A-300 is the tallest aerial device Alpha Platforms offers in rescue situations.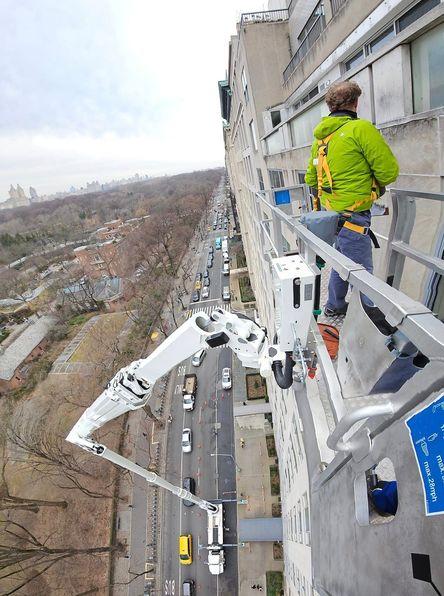 Can you reach down with an articulating boom lift?
Some truck-mounted boom lifts provide significant reach under the surface - sometimes even up to 80 ft.
The A-300 features a maximum working range of 20 ft below floor level with a maximum horizontal outreach of 106 ft.
Can a boom lift be used as a crane?
Boom lifts are more practical for professionals who must work at height, while cranes are used for lifting extremely heavy objects. Boom lifts are more convenient and less expensive than cranes, which is why users rent boom lifts for urban projects that entail limited space.
Although inferior in lifting power to cranes, boom lifts can still carry significant weight.
The A-250 has a maximum expandable cage capacity of 1,322 lbs., while some boom lifts like the A-300 feature a maximum heavy-duty cage load of up to 1,540 lbs.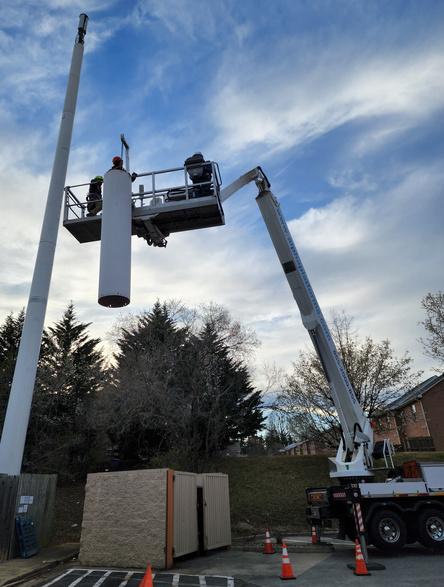 Can a boom lift be used on a slope?
Users should keep self-propelled boom lifts like JLG on even ground to avoid the risk of a tip-over due to a high center of gravity.
Alpha Platforms truck-mounted lifts can be set up and safely operated on slopes up to 6 degrees (and sometimes more) due to the lift's extended stabilizers and an auto-leveling feature.
While parked on a slope, our boom lifts only operate when leveled.
Functions on a boom are activated only after the system recognizes that the platform is 100% horizontal. If it's not, lift functionality is disabled and operating it is impossible unless the aerial platform is leveled and horizontal.
Can you use a boom lift as an anchor point?
No. Boom lifts cannot be used as anchor points.
Can you drive a boom lift on grass?
Using a truck mounted aerial platform on rough terrain or grass is no problem if the ground is solid enough to withstand the weight of the boom lift. If needed, rigging plates can be used under the outriggers to spread the load.
Driving a boom lift on rough terrain is not easy due to the high center of gravity of a boom truck, which can cause the lift to flip/overturn. As such, only experienced drivers-operators should be used for driving on grass.
In addition, truck-mounted platforms are quite heavy and can cause damage to decorative lawns. We recommend renting and using Alpha Platform's aerial platform lifts. They enable you to reach target areas from a roadway or asphalted yard using our lifts' extended side reach.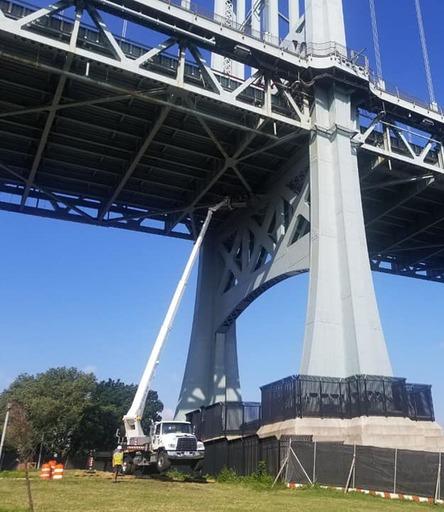 What is the maximum horizontal reach for a boom lift?
Our custom-made, German-engineered and built boom lifts can reach up to 135' horizontally.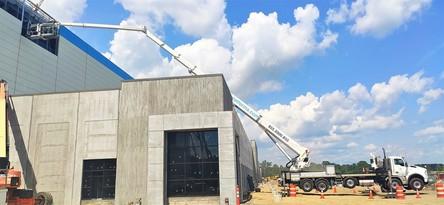 What is the biggest boom lift?
With a gross weight of 110,000 lbs and a maximum height of 300 ft (90 meters), the A-300 is the biggest boom lift, enabling easy and quick access up to 300' vertical and up to a 106' horizontal reach from the 12-foot basket.
This precise German-engineered and built machine can be rented at Alpha Platforms with or without an operator.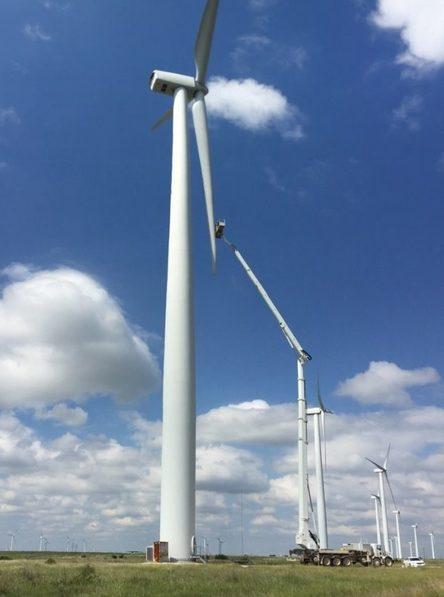 Want to
Save Time and Money
on Your Next Height Access Project?
Hire operated rentals with a full-time
professional lift operator for your next job
Thank you!
We received
your request
Our Team will be in touch
as soon as possible