General Construction
Your height access savings start with a
free quote
Fill out the form below for a quick price quote
Thank you!
We received
your request
Our Team will be in touch
as soon as possible
General Construction Boom Lift Applications
When it comes to construction, not all aerial lifts are created equal. Alpha Platforms' extreme reach platforms can work alongside cranes and small JLGs, taking construction workers or window crews to heights up to 300 feet
Steady, Versatile, and Powerful

Aerial Platform for Fast and Flexible Reach

up to

300 feet

Height
reach

up to

100 feet

Up and
over reach

12 feet

long Extra-
large cage

1,322 lbs.

Lifting capacity
for 6 people
Reduce Spend on Expensive Cranes
Our platforms can replace cranes for small jobs, lifting up to 1,322 lbs., saving you 50% on equipment alone. Reduce reliance on expensive cranes and replace them with our boom lifts. Our robust lifts operate steadily in windy conditions: windy days are typically unsafe to operate cranes, resulting in delayed deadlines. Furthermore, any demolition operations will be made easier to execute using the extreme side reach of our lifts, up to 135 feet.
How Do Our Boom Lifts Help with Construction?
This is a short list of projects we can accelerate, saving you time and reducing your costs:
lift workers alongside cranes to work simultaneously
assist ironworkers in securing I-beams or trusses
install safety netting, roofing, gutters, and chimneys
access roof for HVAC ductwork and other installations
restore structures, paint at heights, and replace and install lights
remove and replace windows, paneling, framing, and sealing
decorate facades and complete other exterior work
assist with crane operations, assembly, maintenance, and crane inspections
other construction projects requiring extreme height reach or side reach
Our Construction Case Studies
Why Choose Our Aerial Platforms


for Your Construction Projects?
01
Smooth Precise Ride at Extreme Heights
Our German-engineered marvel will lift you quietly and quickly. No rattling, no shaking, or screeching. It never feels unsafe to be at 300 feet. The bigger the lift - the steadier it feels on top!
02
Save on one-day, short-term, or long-term projects
Our equipment provides critical savings and efficiency for short-to-mid-term projects ranging from a few hours or days to a few weeks or months. See our
membership rates
.
03
Count on our availability and exceptional response time
Our lifts are available and can be deployed day or night, on a short 72-hour notice, and in extreme cases, within 2 hours of the request.
04
Gain an extra set of experienced hands at no extra charge
While elevated, our operator will help organize the workplace, secure the debris fall prevention net, set up additional lighting, and can assist with your task at hand, if needed.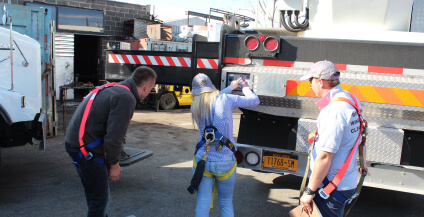 05
Power all your tools and get the royal treatment
Connect all needed work tools (24V, 110V, 220V, 2,000 PSI air/waterline, hydraulic tool outlet), set up a sunshade, heating, or A/C ventilation to give your crew the best workplace conditions at height.
06
Do not waste time to start your work
Your boom lift truck will be ready in 10-15 minutes for you and your crew to be lifted. It takes no longer than 5 minutes to reach 300 feet.
Want to
Save Time and Money
on Your Next Height Access Project?
Hire operated rentals with a full-time
professional lift operator for your next job
Thank you!
We received
your request
Our Team will be in touch
as soon as possible