Aerial Platforms Bare Rental without An Operator
Do You Need

Just the Lift?
Alpha Platforms offers bare rentals as a safe and efficient solution for conducting work at heights.
Alpha Platforms features a fleet of top-of-the-line aerial platforms available for bare rentals, giving project managers a cost-effective option for height access projects over long periods.
We Offer the
Best Bare Rental Aerial Platforms
Alpha Platforms has been providing height access services since introducing the world's most technologically-advanced aerial platforms in the US.
150' to 300' lifts can be rented bare for long-term projects (6 weeks +)
A few requirements are a CDL driver's license with a clean record, an experienced operator with an IPAF PAL card, and proper insurance for the most sophisticated lifts.
Our truck-mounted aerial platforms, ranging from 92' to 300' in height with a side reach of up to 135', are ideal for city works as well as field projects.
No commercial driver's license (CDL) is needed for 92' to 140' lifts!
Under-CDL truck mounts are a perfect solution for various specialists needing height access at multiple job sites across a day or a week.
The compact size of Under-CDL truck mounts provides excellent mobility. That's why they are an ideal solution for various industrial and urban projects in industries with high traffic and difficult access – where other platforms cannot easily access the worksite.
Aerial Platforms Bare Rental is a Viable Option for

Long-Term

rentals
Aerial platform bare rentals can be a more efficient option if your team has experienced lift operators with an extensive track record of safe equipment operation. In that case, opting for bare rentals typically results in savings for the renter, as they don't pay for additional services included in Operated Rentals.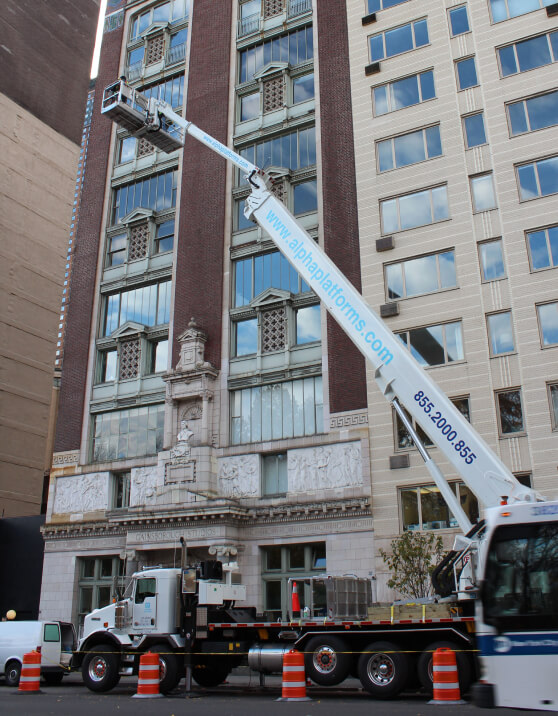 We Offer Two Types Of Aerial Platform Bare Rentals:
150-300' lifts for long-term projects (6 Weeks +)
Requires a CDL driver and IPAF certification for two operators.
92-140' lifts for short or long-term, typically local projects (Daily or Weekly)
IPAF certification and a clean standard driver's license are required. Weekly or daily rentals for member clients.
Choose Bare Rentals If Your Project and Team Match These Requirements:
Sufficient experience with truck-mounted aerial platforms
CDL drivers are available to drive larger lifts (150' to 300')
Long-term rental duration or frequent small local projects
Your IPAF-certified operators can demonstrate their skills in our yard. As an official IPAF training center, Alpha Platforms can train and certify your operators for longer projects. We also provide training and IPAF certification for all our member clients
However, note that with bare rentals, the renter is responsible for insuring and maintaining the equipment, including repairs and troubleshooting issues throughout the rental period.
Read More About Aerial Boom Lift Safety
Alpha Platforms offers exceptional customer service and support to ensure that renters have the proper equipment for their needs and can operate it safely and effectively. With an extensive rental fleet and experienced technicians, Alpha Platforms is the ideal choice for all your equipment rental needs.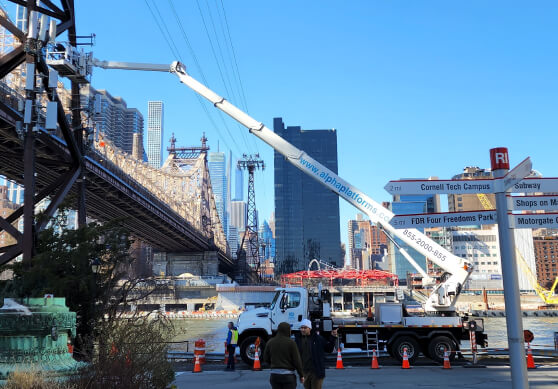 Bare Boom Lifts

in Action
At Alpha Platforms, We Offer Customized Solutions to Height Access Challenges in All Industries, Resulting in Increased Productivity, Safety, and Work Crew eEfficiency.
Talk to us about
your

long-term

height access challenges
Thank you!
We received
your request
Our Team will be in touch
as soon as possible