230' / 70 m
Max working height
115' / 35 m
Max horizontal outreach
1,322 lbs / 600 kg
Max cage load
1,540 lbs / 700 kg
Max heavy duty cage load
A-230 PLATFORM
Our A-230 platforms are German-made and mounted on a rugged, custom-built all-wheel drive, 5-axle Kenworth chassis. This versatile model is tuned up for rough terrain field jobs as well as tight city streets and turns.
It's little wonder why the A-230 is our most frequently used model. With an impressive 230-foot working height, 30-foot upper boom, 12-foot cage, and outreach up to 115 feet, Alpha Platforms' A-230 is designed to ensure superior flexibility and reach for any high-altitude job.
This extremely maneuverable boom lift may be driven to any worksite, stabilized, and fully ready to work within 15 minutes. The A-230 is our third-tallest and most popular model for working around high-rise buildings and industrial towers.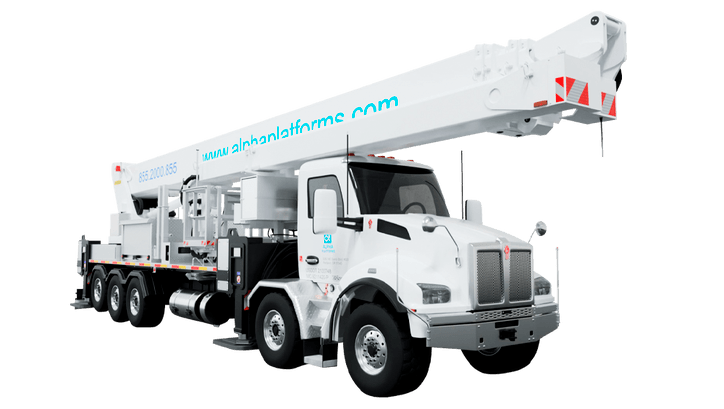 HEIGHT REACH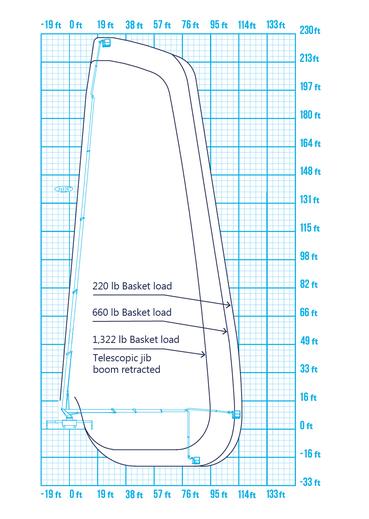 SIDE REACH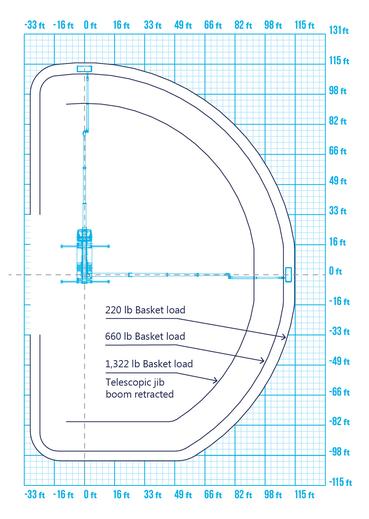 Max. working height
230' / 70 m
Max. cage floor height
223' / 68 m
Max. horizontal outreach
115' / 35 m
Max. working range bellow floor level
20' / 6m
Max length of jib boom
31'6'' / 9.65 m
Turntable rotation
continuous
Min. stabilizer spread
8'6" / 2.95 m (within truck width)
Max. stabilizer spread
27'1" / 8.25 m
Unit dimensions in transport position
45'3" x 8'6" x 13'4" / 13.8 m x 2.59 m x 4.1 m
Gross vehicle weight
79,900 lbs
Max. extendable cage load
1,322 lbs / 600 kg
Extendable cage dimensions
12'7" x 3'4" x 3'6" / 3.88 m x 1.05 m x 1.1 m
Max. heavy duty cage load
1,540 lbs / 700 kg
Heavy duty cage dimensions
8'1" x 3'4" x 3'6" / 2.47 m x 1.05 m x 1.1 m
Cage rotation
2 X 80 degrees
Socket in the basket
230V / 110V / 24V DC
Hydraulic power outlet
200 bar (2,900 PSI), 10 l/min (2.6 GPM)
High pressure air line / heater / A/C / halogen lights inside the cage
Movable cage controls panel with graphic display
Secondary controls station at a turntable
Rain cover, sunshade, hoist, winch
See Other Boom Lift Heights
Extreme Boom Reach
Hard-to-believe capabilities of height reach (up to 300 feet), side reach (up to 135 feet), up and over reach (up to 100 feet), and any hard-to-reach places.
Crew Safety and Accident Prevention
With three built-in overload and reach control systems, our lifts minimize the impact of human error.
Large Heavy-Duty Basket
Our 12-foot basket accommodates up to 6 people. It lifts up to 1,322 lbs, lifting most of the equipment or parts you will need with you, saving on a crane.
Cage Outlets and Attachments
We provide all necessary utility outlets and cage attachments for every job at heights.
Quick Lift Setup
Your boom lift truck will be ready in 10-15 minutes for you and your crew to be lifted. It takes up to 5 minutes to reach 300 feet.
Workers' Comfort and Productivity
What other manlift includes a chair, a sunshade, a heater, heated non-slip floors, or an air conditioner?
A-230 CASE STUDY
National Landmark Cathedral Restoration
How to Inspect and Secure Dislodged Roof Pillars at the 230+ Foot
National Cathedral without Touching the Building
The majestic, gothic Washington National Cathedral is the sixth-largest cathedral in the world and the second-largest in the United States. As a result of the 2011 earthquake, the cathedral sustained $34M in damage, especially to its high structures. Civil engineering architects determined that the bottoms of the decorative pillars at the top of the building were dislocated, and one of the main pillars was very unsafe.
According to quotes from potential contractors, it would be very expensive to set pipe scaffolding ($100k plus) around the roof pillars.
To preserve the delicate historic building while reducing project cost, the client hired Alpha Platforms' A-230, our unique contactless reach 230-foot boom lift.
Read how the Alpha team exceeded client expectations by finishing the entire project on the second day before lunch instead of the anticipated 3-5 days and saved tens of thousands of dollars.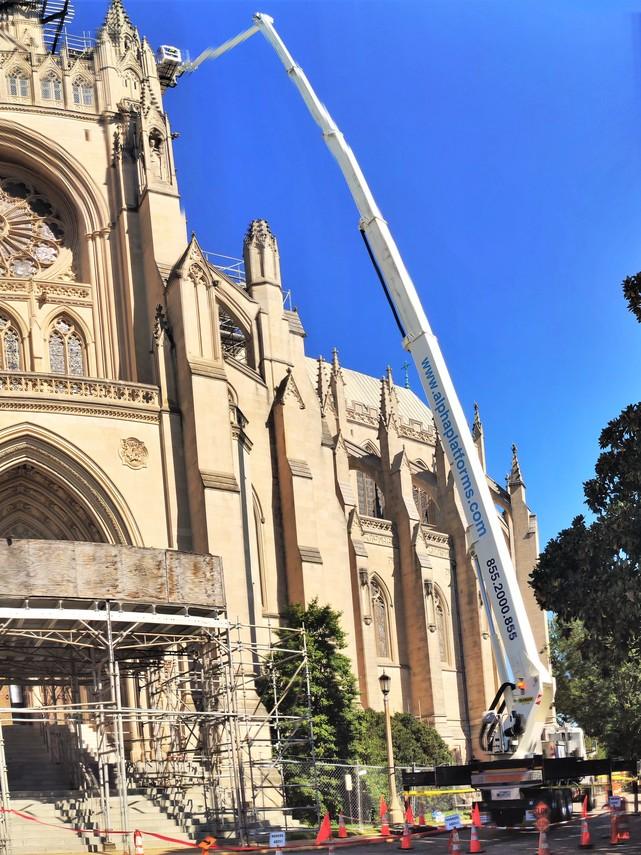 Is 230' boom lift the height you need for your projects?
Sometimes, a smaller lift is enough.
Ask now and save
Thank you!
We received
your request
Our Team will be in touch
as soon as possible