246' / 75 m
Max working height
128' / 39 m
Max horizontal outreach
1,322 lbs / 600 kg
Max cage load
1,540 lbs / 700 kg
Max heavy duty cage load
A-250 PLATFORM
The A-250 is our second-tallest model: only the A-300 is taller!
This boom lift is equipped to face any challenge, from various city jobs and telecom infrastructure to oilfield projects in extreme conditions.
As a heavily-upgraded A-230, the A-250 lift has supreme capabilities be it its height access, side reach, 60 foot upper boom with X-jib 400 degree cage rotation and 660-lb cage winch. It quickly becomes the favorite for all our clients and brings their productivity at heights to the next level.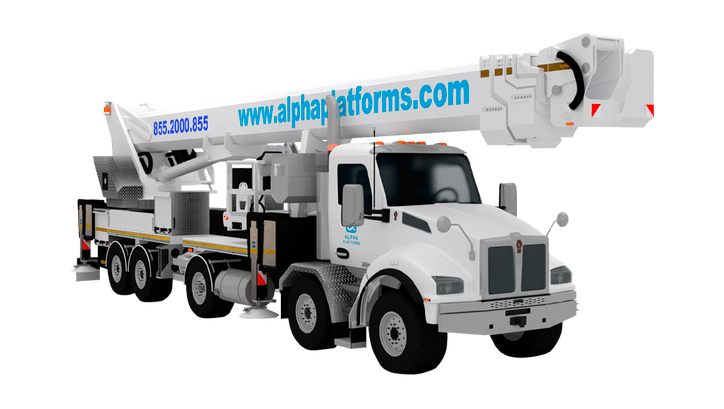 HEIGHT REACH
SIDE REACH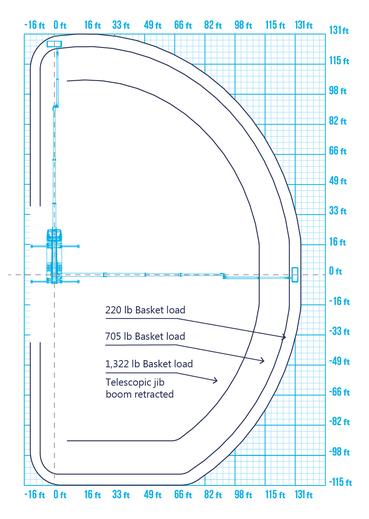 Max. working height
246' / 75 m
Max. cage floor height
239'5" / 73 m
Max. horizontal outreach
128' / 39 m
Max. working range bellow floor level
20' / 6 m
Max length of jib boom
60' / 19 m
Turntable rotation
540 degrees
Min. stabilizer spread
8'3" / 2.54 m (within truck width)
Max. stabilizer spread
29'2" / 8.89 m
Unit dimensions in transport position
46' x 8'3" x 13' / 14 m x 2.51 m x 3.95 m
Gross vehicle weight
70,107 lbs
Max. extendable cage load
1,322 lbs / 600 kg
Extendable cage dimensions
12'5" x 3'4" x 3'6" / 3.81 m x 1.05 m x 1.1 m
Max. heavy duty cage load
1,540 lbs / 700 kg
Heavy duty cage dimensions
8'1" X 3'4" X 3'6" / 2.47 m X 1.05 m X 1.1 m
Cage rotation
2 x 200 degrees
Socket in the basket
230V / 110V / 24V DC
Hydraulic power outlet
200 bar (2,900 PSI), 10 l/min (2,6 GPM)
High pressure air line / heater / A/C / halogen lights inside the cage
Movable cage controls panel with graphic display
Secondary controls station at a turntable
Rain cover, sunshade, hoist, winch
See Other Boom Lift Heights
Extreme Boom Reach
Hard-to-believe capabilities of height reach (up to 300 feet), side reach (up to 135 feet), up and over reach (up to 100 feet), and any hard-to-reach places.
Crew Safety and Accident Prevention
With three built-in overload and reach control systems, our lifts minimize the impact of human error.
Large Heavy-Duty Basket
Our 12-foot basket accommodates up to 6 people. It lifts up to 1,322 lbs, lifting most of the equipment or parts you will need with you, saving on a crane.
Cage Outlets and Attachments
We provide all necessary utility outlets and cage attachments for every job at heights.
Quick Lift Setup
Your boom lift truck will be ready in 10-15 minutes for you and your crew to be lifted. It takes up to 5 minutes to reach 300 feet.
Workers' Comfort and Productivity
What other manlift includes a chair, a sunshade, a heater, heated non-slip floors, or an air conditioner?
A-250 CASE STUDY
Mega-Building Construction
How Alpha Platforms Helped Amazon
Build Two Mega-Warehouses
Construction teams for Amazon's 3.8-million sq. ft. mega-warehouses searched for a way to cover the second-floor wall that required an up and over reach of 130 ft. They were seeking a contactless height access operator to avoid damage from hanging baskets and control costs. Neither the onsite JLG nor United Rentals lifts were capable of the extreme up and over reach. The A-250 reached 95% of the required second floor surface up and over the roof. Also, Alpha installed a custom sunroof attachment to the lift cage, providing shade for workers during the hot summer days. Would you like to learn more about the job site challenges and see the foreman's feedback?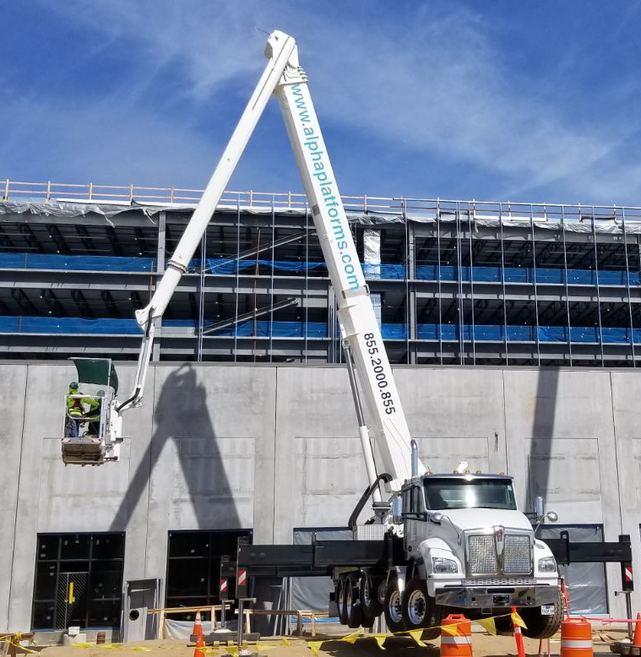 Is 250' boom lift the height you need for your projects?
Sometimes, a smaller lift is enough.
Ask now and save
Thank you!
We received
your request
Our Team will be in touch
as soon as possible