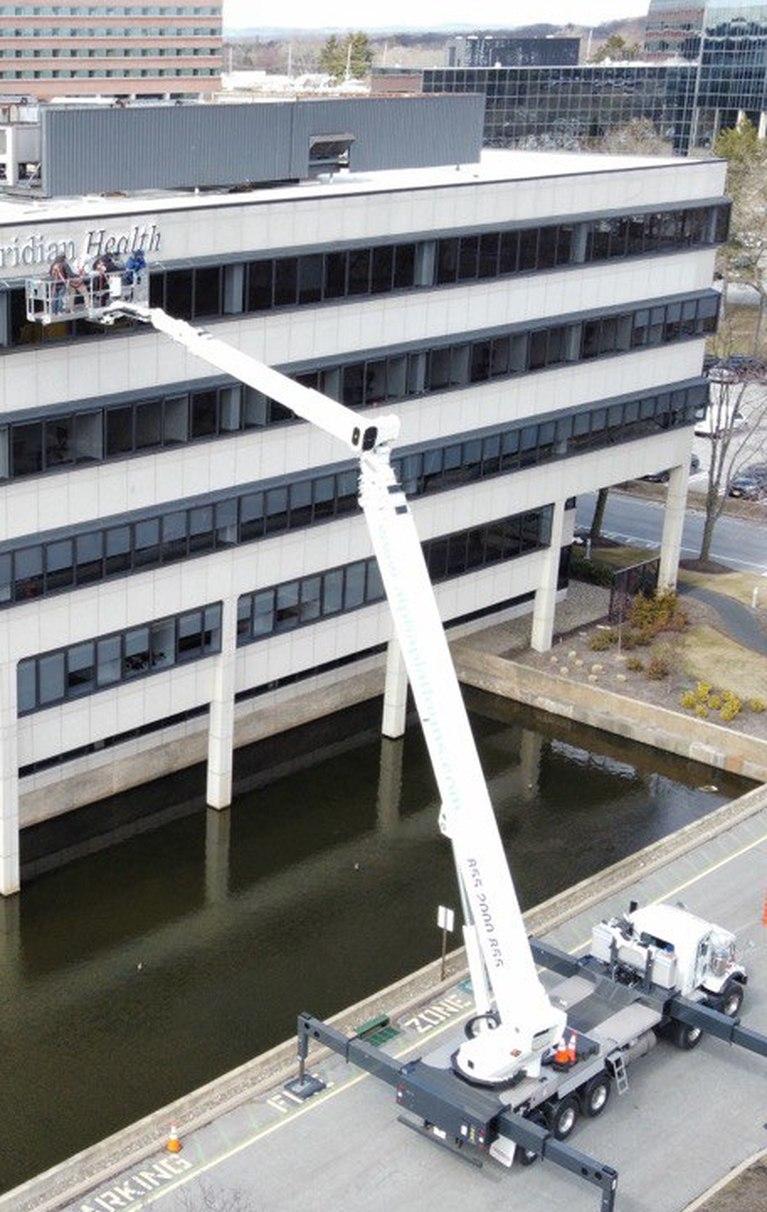 Signage Installation in Hard-to-Reach Spaces
Case Study:
How to attach two large logos and 40 sign letters to an inaccessible roof in just one day
What was the challenge?
Our repeat client, a nationwide signage manufacturing and installation company, works with us every month. They needed to place two large building signs on two opposite walls just under the roof of the new five-story Hackensack Meridian Health building in Paramus, NJ.
The challenge was that a 40-feet-wide artificial pool was located just below one side of the building, leaving no space to park a lift. In addition, JLGs don't have the required side reach or basket capacity to fit the large load of three workers with the necessary tools and materials.
On the other side of the building's fifth floor, the branches of mature trees left no space in which to squeeze a lift without breaking the branches and injuring the workers in the lift.
Unfortunately, the flat roof prevented the client from installing hanging baskets and the building did not have a Building Maintenance Unit (BMU) but rather typical HVAC installations everywhere. Thus, installing a roof-based solution just for this project was cost-prohibitive.
What was the solution?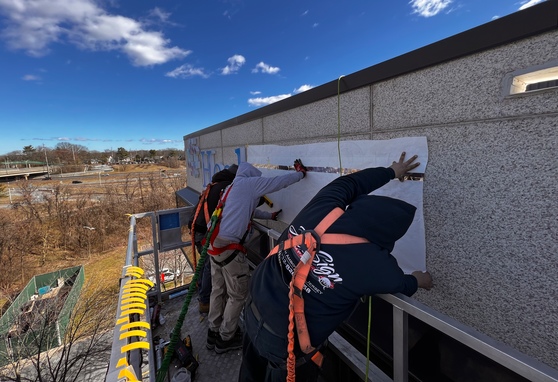 1
The client contacted Apha Platforms for yet another project, as they rely on our extreme side reach capabilities, up-and-over reach capabilities, safety, and large-size man baskets to accelerate the work and install building signs at heights quicker.
2
Alpha Platforms dispatched its A-250, a 250-foot-tall boom lift, capable of 135 feet of side reach. Operated rentals included a full-time, IPAF-certified, experienced lift operator and a traffic management associate. The client did not require a street permit as the location was on a privately-owned parking lot.
3
The specs of our state-of-the-art A-250 lift:
Details
What was the outcome?
Alpha Platforms completed its quick setup prior to the client team's arrival. Upon arrival, three technicians loaded their materials, signage, and tools into the 12-foot basket capable of lifting 1,322 lbs. They worked in concert with two-three workers on the roof attaching the sign letters one by one.
As a result, installing hard-to-reach building signs made of 40 large letters and two large logos took just one day of work, significantly faster than with any conventional height access methods with the same number of employees.

Our precise German-made lifts have become the height access method of choice for those who try them, as they combine
unmatched productivity, safety, and reach.
Notable 250 Foot Boom Lift Capabilities
12-foot extra large cage
1,322 lbs lifting capacity for crew, equipment, and materials
Cage rotation 2 x 200°
Side reach up to 130 feet
Unique "under and up" or "up and over and back" access
Smooth controlled motions to move close to and around glass and fragile structures
Jib length 49'2''
Alpha Platforms has helped

hundreds of teams like yours
Customer Testimonials
from Case Studies
Building restoration services family business owner
We wanted to give it a try and see what this boom truck could do. We loved the idea of a wide basket that could reach up to 30 feet and get to the brick wall over the roof. The main reason we loved the truck was how it maneuvered the boom to lower the bricks inside a dumpster, which was located behind the truck. It saved us at least one extra day of work. It all went great.
Head stone mason, national cathedral
The project was performed successfully, and we were really glad to have contactless means of reaching the building, as we all know that pipe scaffold might damage the structure, in this case, very very sensitive.
Director of operations, family-owned regional electrical services provider
Alpha has the most efficient and leanest site setup time I've ever seen. My brother, who is the top climber of our group, first struggled to understand how this cage could go around the tower better than the crane - and when it did the whole 360°, he became a believer. Also, each laborer said how incredibly safe they felt - very different from the small crane basket. We were able to secure and push back the panels in place without the basket ever moving.
Have a tough height
access project you
need help with?
Thank you!
We received
your request
Our Team will be in touch
as soon as possible