210' / 64 m
Max working height
133' / 40.5 m
Max horizontal outreach
1,322 lbs / 600 kg
Max cage load
1,540 lbs / 700 kg
Max heavy duty cage load
A-210 PLATFORM
The outstanding features of the A-210 are ideal for long-side outreaches and provide versatility for lifting and turning from the same parking space, thereby dramatically increasing productivity.
Unlike standard shorter upper booms relative to the main boom, the A-210 boasts a super-long telescopic upper boom of over 62 feet, providing a 133-foot side reach.
This model also has no problem getting around corners or into tight spaces with its 12-foot full-swing cage and 240-degree X-jib giving clients a greater working range.
The hanging basket combined with "under and up" or "up, over, and back" features enable your team's access to really hard-to-reach places.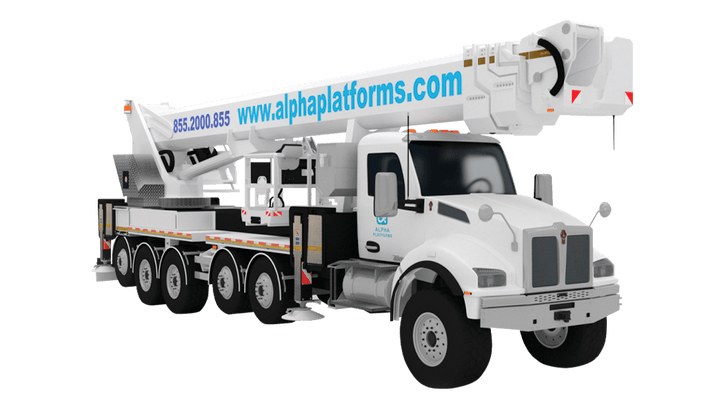 HEIGHT REACH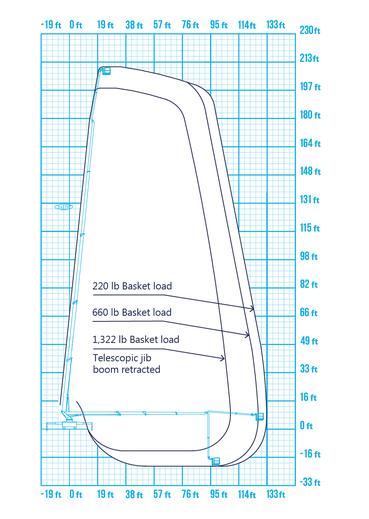 SIDE REACH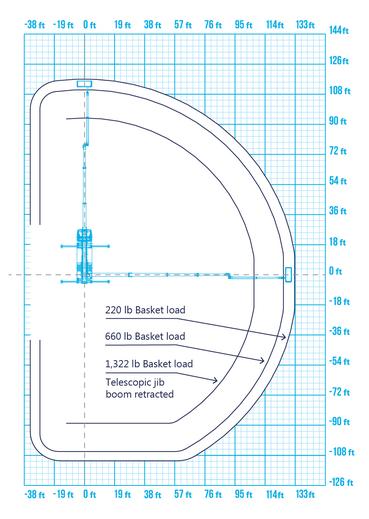 Max. working height
210' / 64 m
Max. cage floor height
203'4" / 62 m
Max. horizontal outreach
133' / 40.5 m
Max. working range bellow floor level
33' / 10 m
Max length of jib boom
49'2'' / 15 m
Turntable rotation
540 degrees
Min. stabilizer spread
8'2" / 2.51 m (within truck width)
Max. stabilizer spread
29'2" / 8.89 m
Unit dimensions in transport position
39'2" x 8'3" x 12'8" / 11.93 m x 2.51 m x 3.9 m
Gross vehicle weight
57,320 lbs
Max. extendable cage load
1,322 lbs / 600 kg
Extendable cage dimensions
12'5" x 3'4" x 3'6" / 3.81 m x 1.04 m x 1.1 m
Max. heavy duty cage load
1,540 lbs / 700 kg
Heavy duty cage dimensions
8'1" x 3'4" x 3'6" / 2.47 m x 1.05 m x 1.1 m
Cage rotation
2 x 200 degrees
Socket in the basket
230V / 110V / 24V DC
Hydraulic power outlet
200 bar (2,900 PSI), 10 l/min (2.6 GPM)
High pressure air line / heater / A/C / halogen lights inside the cage
Movable cage controls panel with graphic display
Secondary controls station at a turntable
Rain cover, sunshade, hoist, winch
See Other Boom Lift Heights
Extreme Boom Reach
Hard-to-believe capabilities of height reach (up to 300 feet), side reach (up to 135 feet), up and over reach (up to 100 feet), and any hard-to-reach places.
Crew Safety and Accident Prevention
With three built-in overload and reach control systems, our lifts minimize the impact of human error.
Large Heavy-Duty Basket
Our 12-foot basket accommodates up to 6 people. It lifts up to 1,322 lbs, lifting most of the equipment or parts you will need with you, saving on a crane.
Cage Outlets and Attachments
We provide all necessary utility outlets and cage attachments for every job at heights.
Quick Lift Setup
Your boom lift truck will be ready in 10-15 minutes for you and your crew to be lifted. It takes up to 5 minutes to reach 300 feet.
Workers' Comfort and Productivity
What other manlift includes a chair, a sunshade, a heater, heated non-slip floors, or an air conditioner?
A-210 CASE STUDY
Decorative Lighting
How to Accelerate Installation of Decorative Lighting on a 15-Story
Historical Landmark Hotel Overlooking Times Square by 2-3X
Metro Electrical Contractor hired Alpha Platforms to assist with the installation of permanent façade decorative lighting for the grand reopening of the historic Knickerbocker Hotel in New York.
The Knickerbocker Hotel is a historic 15-story Beaux-Arts hotel in Times Square, on the southeast corner of Broadway and 42nd Street, in the Midtown Manhattan neighborhood of New York City.
Due to roof conditions, setting up scaffolding for a building this size would have cost hundreds of thousands of dollars while blocking Times Square sidewalks for three months.
In addition, the three-story mansard roof required over 20 feet of side reach, which was not accessible by conventional lifts.
Alpha Platforms mobilized a fleet of three aerial platforms: an A-230, a 230' boom lift, a 92' boom lift, and 165' spider lift, the biggest spider lift in the US. Alpha Platforms worked at night to minimize traffic interruption for 20 days, from 9 pm to 6 am, completing the job that would have otherwise taken 2-3 times longer.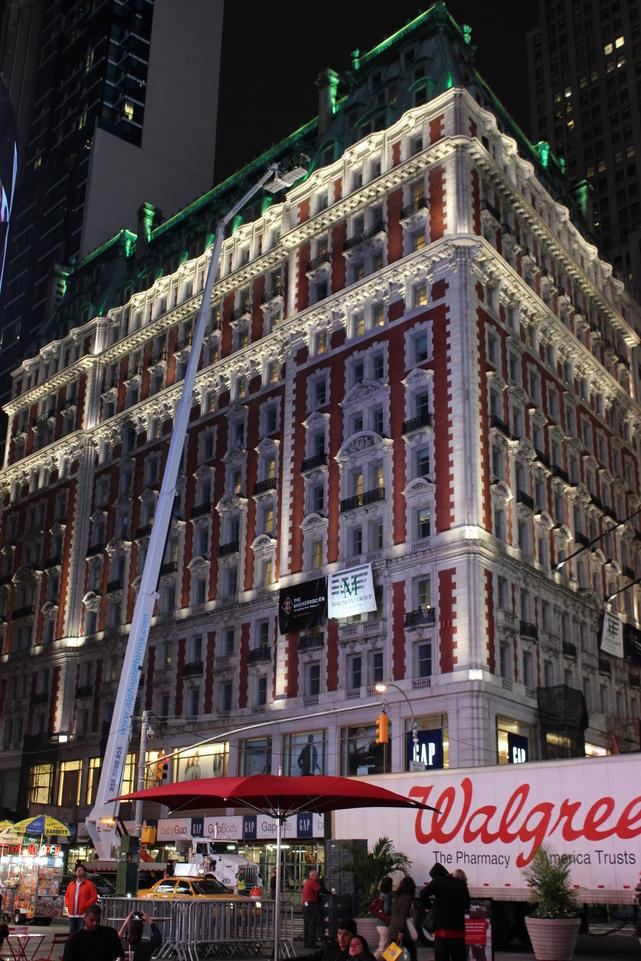 Is 210' boom lift the height you need for your projects?
Sometimes, a smaller lift is enough.
Ask now and save
Thank you!
We received
your request
Our Team will be in touch
as soon as possible