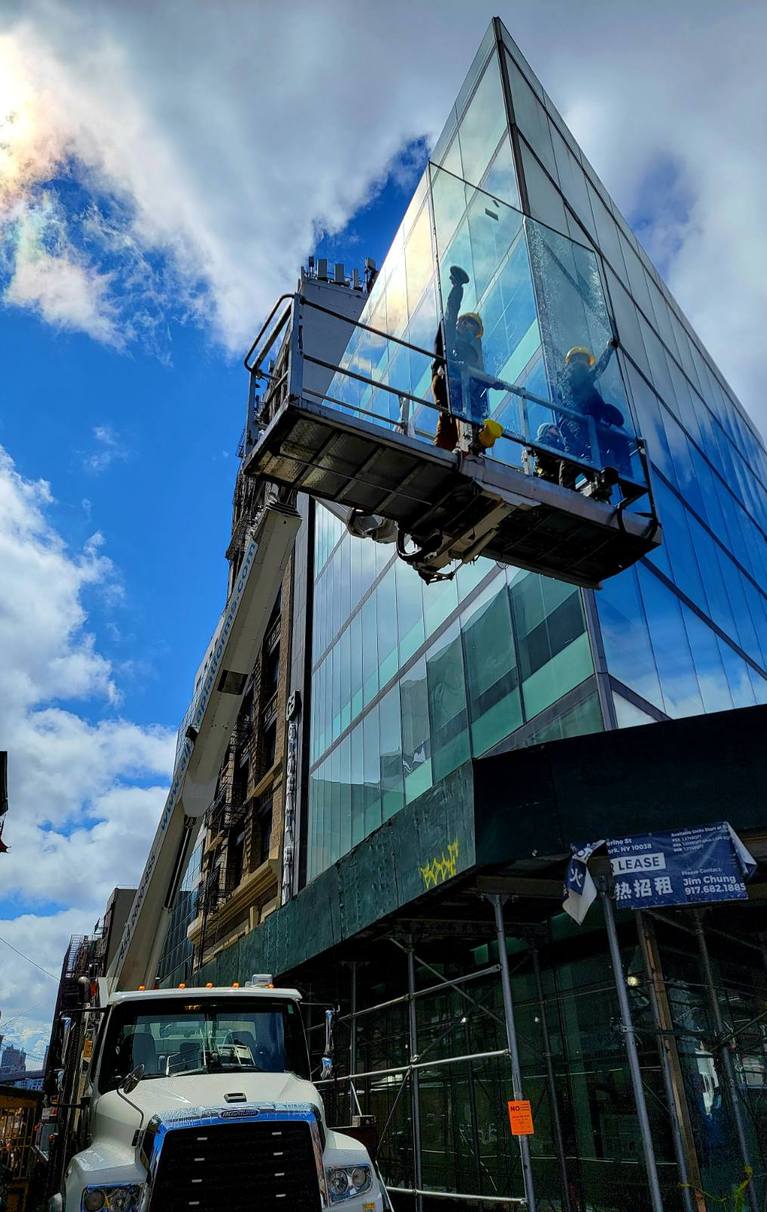 Large Glass Installation and Safety Emergency
Case Study:
Large Glass Installation on a Busy Street: Disaster Prevented
What was the challenge?
A local building management company needed to replace several broken glass units on the fourth floor of a beautiful glass-walled building located on a busy street in New York City.
The client's declared oversized glass panels had various dimensions, with the largest ones up to 9 x 12 feet and weighing 500-600 lbs. Typically, installation of these panels would have required a crane and a man lift or a crane and scaffolding.
The building management hired a glass installation company that did not have adequate equipment to safely lift and install these oversized panels. Therefore, the glass company engaged Alpha Platforms for an all-inclusive height access service to assist with the project.
What was the solution?
1
Alpha Platforms' team dispatched its A-150, a 150-foot truck-mounted aerial lift with a 12-foot cage capable of lifting 1,320 lbs. for a two-day project.
2
The full package included securing a city street permit, a full-time lift operator, a Power Lift basket attachment for large, heavy items, lift setup and removal, secure area setup, and two traffic flaggers for the entire duration of the project.
3
On day one, the A-150 with the Alpha team arrived 15 minutes ahead of schedule, ready to begin, when the customer arrived and delivered the first glass unit. The customer decided to start with the largest glass unit.
4
Before removal of the old glass, Alpha's operator asked the glazers to load the replacement glass on a cage to check its weight to ensure it met the lift's safe loading limits. Upon loading it onto the Power Lift, the cage's built-in scale confirmed the glass weighed within the declared 600 lbs. So, with two glass installers, their tools, and Alpha's operator, the total weight was under 1,250 lbs.
5
The glass panel was then removed from the cage and moved back to the glazers' van to wait until the broken glass was removed. Then, Alpha's lift operator lifted two glass installers with their tools to the fourth floor, where the largest damaged glass panel was located. They unsealed the glass and started to remove it from a window frame and onto our Power Lift system.
6
When glass installers removed the broken glass on the 4th floor and loaded it onto our Power Lift, the warning message flashed "OVERWEIGHT!" The panel was 200 lbs above the limit, creating a potential disaster. … showing over 200 pounds above the allowed limit.
7
The client should have declared that they cheated on their bid and were replacing a triple-glass window with a cheaper double-glass window. And that the original triple-glass window was not 600 pounds but actually 900 pounds, pushing our standard basket load past its allowed maximum of 1,320 lbs.
8
Once the old broken glass panel was loaded into Alpha's Power Lift system, the built-in security monitor immediately locked the boom and, following the manufacturer safety protocol, shut down the electronics of the entire lift, freezing the boom lift in its position, and disabling all further movements.
9
In Alpha's 10-plus years of experience with nationwide height access projects, not once did we face a situation like that.
10
An emergency protocol was activated to deploy emergency descent procedures. As all our IPAF-certified and manufacturer-certified operators and other personnel are trained on emergency procedures, Alpha Platforms flaggers followed the emergency procedures to lower the lift manually and safely lower the crew and the 900-lb glass unit to the ground.
11
The specs of our state-of-the-art A-175 lift:
Details
What was the outcome?
Following the incident and discovery of undeclared information, Alpha Platforms dispatched a larger lift, its A-175, a 175-foot lift with a heavy cage capacity of 1,540 lbs. Despite the emergency, Alpha team completed the job safely and on time. Thanks to the robust and smart German aerial lift, we were able to avoid a potential disaster.
As a result, the client avoided an expensive and reputation-crushing incident that could have led to injuries from falling glass and falling workers.
In addition, they saved money as the alternative options, such as scaffolding or a crane, would have doubled or tripled their cost.

Notable 175 Foot Boom Lift Capabilities
12-foot extra large cage
1,322 lbs lifting capacity for crew, equipment, and materials
Side reach up to 130 feet
Jib length 31'6''
Parking in tight spaces 8'6'' wide
Cage rotation 2 x 80°
Alpha Platforms has helped

hundreds of teams like yours
Customer Testimonials
from Case Studies
I had an emergency project on a 140' high voltage tower and needed Alpha Platforms next day. They were so helpful and expedient walking me through the entire process so I was comfortable with the deal. They showed up to my site next day and cut about 2 days off of the project due to the safety, speed and efficiency of their lift and operators. I'll never rent or hire another lift company. I would recommend Alpha platforms for all your high reach needs.
Jon told me that it was a pleasure to work with Alpha Platforms, the crew was skilled and helpful, the equipment was top notch. Our installers appreciated the security of the platform vs working off of a swing stage, it made their job easier and more efficient. From first meeting thru to the end of the work day everything ran as smoothly as it could. City Sign Service, Inc. will definitely be partnering with Alpha Platforms on future projects
We had an exceptional experience with Alpha! They are professionals, great operator team. Overall reliable, recommended will certainly return for my future needs hands down.
My company used alpha lifts to clean a 14 floor building and they were great. Very accommodating, always on time, and will work with you to get the job done safe and sound. The lifts they provide are state of the art and can pretty much reach any low rise building under 250 feet. I'd recommend them to anyone doing window cleaning or facade cleaning, or anything king of height access work!
Building restoration services family business owner
We wanted to give it a try and see what this boom truck could do. We loved the idea of a wide basket that could reach up to 30 feet and get to the brick wall over the roof. The main reason we loved the truck was how it maneuvered the boom to lower the bricks inside a dumpster, which was located behind the truck. It saved us at least one extra day of work. It all went great.
Head stone mason, national cathedral
The project was performed successfully, and we were really glad to have contactless means of reaching the building, as we all know that pipe scaffold might damage the structure, in this case, very very sensitive.
Director of operations, family-owned regional electrical services provider
Alpha has the most efficient and leanest site setup time I've ever seen. My brother, who is the top climber of our group, first struggled to understand how this cage could go around the tower better than the crane - and when it did the whole 360°, he became a believer. Also, each laborer said how incredibly safe they felt - very different from the small crane basket. We were able to secure and push back the panels in place without the basket ever moving.
That is a fine piece of equipment! And the competent, professional group that goes along with it is just the cherry on top. I really appreciate everything. I'm sure we'll be able to use Alpha again in the future as we get these opportunities. In fact, it will only help our business knowing we have a safe, reliable solution to these over 50' height challenges.
The Signage Company Owner
It was a pleasure to work with Alpha Platforms, the crew was skilled and helpful, the equipment was top-notch. Our installers appreciated the security of the platform vs working off of a swing stage, it made their job easier and more efficient. From the first meeting thru to the end of the work day everything ran as smoothly as it could. We will definitely be partnering with Alpha Platforms on future projects. Thank you for your help!
Have a tough height
access project you
need help with?
Thank you!
We received
your request
Our Team will be in touch
as soon as possible