Case Study:
How to Accelerate the Most Expensive Mall Construction Project and Reduce Overall Cost
What was the challenge?
American Dream Meadowlands is the second-largest entertainment and commercial center in the US, taking a whopping 13 years and $6 billion to build. It is home to DreamWorks Water Park, the largest indoor water park in the United States. Inside the water park, the largest covered indoor wave pool with artificial waves lapping over 1.5 acres was under construction. The general contractor needed to lift and attach water park decorations and lighting as well as paint under the roof. They would have needed cranes combined with a very tall manlift for the workers to accomplish this. Unfortunately, available JLG and Genie lifts could not reach the necessary height to perform the required tasks.
The construction floor bustled with swarms of laborers with equipment hustling to complete various parts of the 8.5-acre water park. Setting up scaffolding for height jobs would have blocked the whole area and delayed the project another couple of months. Building and moving scaffolding around would have also cost $500,000 to $600,000 in equipment alone.
The result would have been cascading extra expenses on an already over-budget project.
The construction company faced a fast-approaching pool excavation start date with millions of dollars at stake. However, the current construction project was behind schedule and a quick solution was required. They needed to attach hanging decorations, the world's tallest 142-foot tall indoor drop slide, and lighting to its high ceiling before the excavation could begin.
What was the solution?
1
To meet the burning timeline and save the budget, the client engaged Alpha Platforms for a week-long project to lift and attach large decorations and lights around the water park area.
2
Alpha Platforms dispatched its A-175, a 175-foot telescopic boom lift with a side reach of 120 feet. Its 31-foot maneuverable jib boom turned the generous 12-foot basket virtually 360 degrees to easily access every spot under the slide's roof. All of this was accomplished from a single parking spot. Our basket can lift 1,320 lbs., reducing the number of trips up and down for most jobs at height.
3
Electrician with all his light fixtures and tools easily fit in our 12-foot basket.
4
Intervention by other heavy equipment would have been severely restricted due to the narrow entry point of just 13 feet, 6 inches tall. Our truck-mounted aerial platforms are 13 feet, 2 inches high, meeting federal regulations for commercial truck height.
5
Cranes handled large plane parts, while we lifted small parts, tools, and the working crew. The client's team placed their welding machine in the cage and used hydraulic tools powered by the built-in lift basket outlets.
6
The work was done in the middle of a sweltering summer. The building was not air-conditioned during construction, and under the roof, the temperature was dangerously hot. Workers operated in two shifts: descending, resting, and cooling down every two hours in a special cooling room.
7
The specs of our state-of-the-art A-175 lift:
Details
What was the outcome?
Alpha staffed two shifts of operators to work all day long, ensuring uninterrupted work. Portable air fans and air conditioners were installed in our cage to help reduce the effects of heat. In just a week, Alpha Platforms supported installation of the decorative airplane, light fixtures, and decorations of the waterslide. We worked alongside dozens of other teams and heavy equipment (cranes, JLG/Genie lifts), reaching and lifting parts to areas no JLG lift could reach, eliminating the need for multiple cranes. JLG/Genie lifts on site did not have the up-and-over capability, have a small cage size, low maneuverability, and no side reach – necessary elements for the successful completion of this project.
Using Alpha Platforms significantly accelerated the client's construction schedule and dramatically saved their budget.
We effectively eliminated the need for scaffolding in the swimming pool area, thereby keeping the pool area open for other simultaneous work.

Notable 175 Foot Boom Lift Capabilities
12-foot extra large cage
1,322 lbs lifting capacity for crew, equipment, and materials
Side reach up to 130 feet
Jib length 31'6''
Smooth controlled motions to move close to and around glass and fragile structures
Parking in tight spaces 8'6'' wide
Alpha Platforms has helped

hundreds of teams like yours
How to Skip the Crane and Squeeze a 230-Foot Boom Truck in a Narrow 10-Foot Glass-Walled Well of a New York City Landmark Building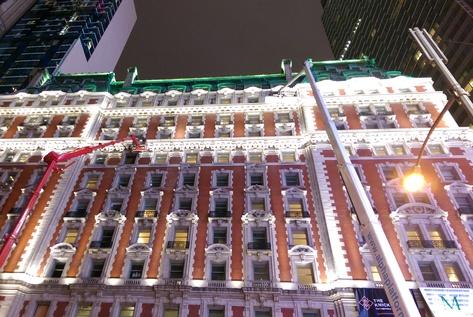 How to Accelerate Installation of Decorative Lighting on a 15-Story Historical Landmark Hotel Overlooking Times Square by 2-3X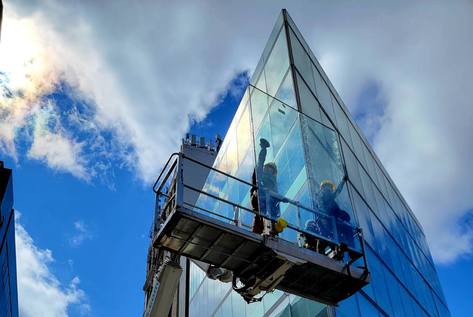 Large Glass Installation on a Busy Street: Disaster Prevented
Customer Testimonials
from Case Studies
Building restoration services family business owner
We wanted to give it a try and see what this boom truck could do. We loved the idea of a wide basket that could reach up to 30 feet and get to the brick wall over the roof. The main reason we loved the truck was how it maneuvered the boom to lower the bricks inside a dumpster, which was located behind the truck. It saved us at least one extra day of work. It all went great.
Head stone mason, national cathedral
The project was performed successfully, and we were really glad to have contactless means of reaching the building, as we all know that pipe scaffold might damage the structure, in this case, very very sensitive.
Director of operations, family-owned regional electrical services provider
Alpha has the most efficient and leanest site setup time I've ever seen. My brother, who is the top climber of our group, first struggled to understand how this cage could go around the tower better than the crane - and when it did the whole 360°, he became a believer. Also, each laborer said how incredibly safe they felt - very different from the small crane basket. We were able to secure and push back the panels in place without the basket ever moving.
Have a tough height
access project you
need help with?
Thank you!
We received
your request
Our Team will be in touch
as soon as possible