People would not be able to enjoy the modern urban infrastructure – all those skyscrapers, bridges, industrial facilities and even suspended banners – in the absence of aerial work platforms. Actually, such spheres as space industry, defense industry, maintenance, construction, logistics and others make use of truck mounted boom lifts nowadays. It's impossible to imagine more reliable, convenient and safe equipment for operations at height.
Along with the basic functions, AWP may even have advanced features like compressed air connectors or electrical outlets, special equipment for easy access and transportation, under bridge units and many others. Depending on the project requirements, an organization can be recommended a certain model of an aerial work platform.
The Place of Aerial Work Platforms in the Global Industry
Speaking of AWP as the driving force of the global industry, we should say that no other equipment is going to replace aerial work platforms in the foreseeable future. Thereat, the demand for truck-mounted boom lifts keeps growing together with ambitions of industrial corporations. More and more they invest in urban landscape and infrastructure and regularly use their own or hired aerial work platforms to implement new projects.
Affected by increasing research and development sectors, the AWP market is rapidly growing with the prospects of further impressive growth potential in the nearest future.
The American market is going to hold the leading position for AWP sales. Both commercial and residential construction projects enjoy high public and private investments in the U.S. and create favorable opportunities for the growth of the local AWP market.
Aerial Work Platforms: Buy or Rent?
Even though industrial companies have the growing demand for truck mounts, they still tend to rent AWP instead of purchasing. It especially refers to small and medium businesses that cannot afford expensive aerial work platforms in their park. However, such enterprises actively rent and lease AWP for a wide range of industrial projects. This option, being cost-effective and reasonable, is the part of a corporate budget in many companies.
Demand breeds supply, and companies, that offer aerial work platforms for rent, try to strengthen their competitive ability by improving technologies, client support, strategic collaborations, extra services etc. They provide AWP for large construction projects and daily urban operations – maintenance of power lines, works in schools, warehouses, shopping malls, sports complexes, exhibition spaces, churches etc. Being compact, lightweight and mobile, they promptly get to the designated place and easily perform established tasks within hours or days.
Clients may hire AWP for several hours, days or months – most providers offer flexible terms of rent.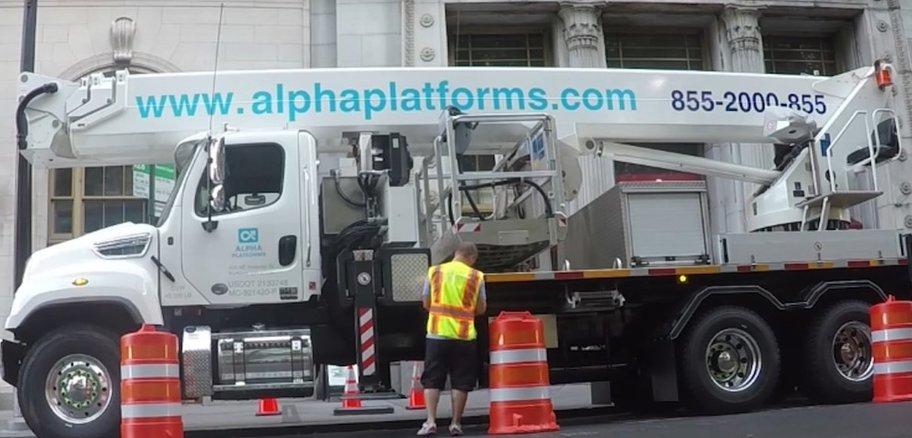 AWP is Always There to Get the Job Done
Aerial work platforms can get to the place of your project without any other means of transportation, they help to elevate people, materials and tools at the required height, to access the areas that cannot be reached otherwise. Truck mounted boom lifts also help in emergency situations – for example, to extinguish the fire or to rescue people or animals from the height.
There are different types of aerial work platforms available in the market. Each has its own type of fueling and working mechanism. Most industrial projects satisfy their needs with elevated work platforms which can be improved by various applications and additional equipment for specific needs.
Aerial Work Platforms Ranging from 150 Feet to 300 Feet in Height
For instance, the largest 300-ft aerial work platform, A-300 double articulated aerial work platform equipped with a jib is always ready to workers, operators, and instruments at the height of up to 300 feet while maneuvering around various obstacles on site.
A-150 platform is suitable for almost all urban projects. Lightweight and compact, it perfectly performs a wide range of city tasks. This highly versatile machine is very popular among utility companies and industrial firms.
Some Tips Before You Get it Started!
Please, make sure you are aware of the surroundings, any hazards on the working site and inform specialists of the AWP provider thereof. Use recommendations of an AWP provider to choose the best truck mounted boom lift for your specific needs.
Sometimes it can save you much money. If you rely on your own personnel, operate the machine in a slow and careful manner and keep focusing on the work at every stage of the AWP operation. Use services of rescue specialists to provide safety on site.
Alpha Platforms is the pioneer in operated
boom lift
rentals and height access service in the 150-300-ft range. Our precise German-made lifts have become the favorite height access method for those who try them once, as they combine unmatched productivity,
safety
, and reach.
Study more: 18 Tips on Safe Way to Operate a Boom Lift
Discover how boom lift rental with operator provide clients a safe and efficient way to complete work at heights